30-JAN-2012

SOURCE: adidas
adidas and Porsche Design Group announce new contract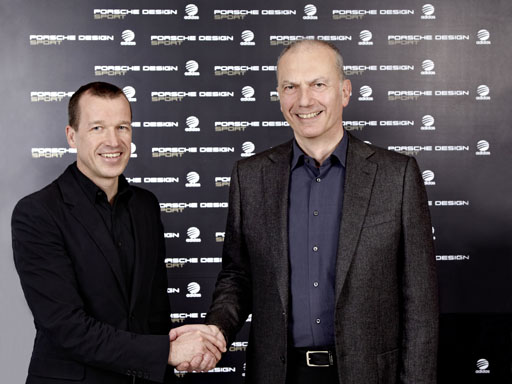 Stuttgart/Herzogenaurach.
adidas and the Porsche Design Group (Porsche Lizenz-und Handelsgesellschaft mbH & CO. KG) announce the next step in their collaborationby entering into a new contract, redefining the sport and luxury brandPorsche Design Sport. In addition, the contract will include an extended adidasOriginals by Porsche Design label with a new twist.
The Porsche Design Sport collection fuses engineering excellence with an inherentcommitment to refined style. The range of luxury sportswear utilizes the industry'smost advanced technologies in concert with luxurious, exclusive materials, performance-enhanced details and impeccable craftsmanship. Stylish yet understated,casual yet technical, Porsche Design Sport is defining a new era of engineered luxurysportswear for sophisticated, stylish men. The Porsche Design Sport collectionis available worldwide in over 250 Porsche Design stores, adidas Concept stores,high-end department stores and exclusive retail outlets.
The adidas Originals by Porsche Design collection targets the young streetwearconsumer. It is characterized by authentic sportswear playing off the heritage andmyth of the Porsche sports cars and their related races. The adidas Originals byPorsche Design collection is available worldwide at adidas stores and adidas partnerstores.
Erich Stamminger, member of the Executive Board, responsible for Global Brandssays: "We are very excited about this next step in our collaboration with the PorscheDesign Group and highly value the joined commitment of our two brands tocreate both engineered luxury sportswear products as well as adidas Originals byPorsche Design articles."
"With our philosophy of 'Iconic Style' the Porsche Design luxury brand offers aunique selection of products," says Dr Jürgen Gessler, CEO of the Porsche DesignGroup. "Launched in 2006, the Sport Collection is today the pinnacle of nextgenerationsports apparel, accessories and footwear. It not only completes ourportfolio of engineered luxury products but defines a whole new segment of stylishand sophisticated sportswear."
Porsche Design Sport is a collaboration between the adidas brand and PorscheDesign. Originally launched in 2006, the Porsche Design Sport collection fuses engineeringexcellence with an inherent commitment to refined style. Stylish yet understated,casual yet technical, Porsche Design Sport is defining a new era of engineeredluxury sportswear.
Press Contact:
adidas AG
Kathrin Buchert
Brand Marketing Manager Fashion Group
Tel.: +49 [0] 9132 84 6073
E-Mail:
kathrin.buchert@adidas.com
Porsche Design Group
Christian Weiss
Head of Public Relations
Tel.: +49 [0] 711 911-12943
E-Mail:
christian.weiss@porsche.de
Contact
Client Relations

TheNewsMarket

clientrelations@thenewsmarket.com