20-OCT-2015

Herzogenaurach

SOURCE: adidas
adidas Outdoor invites you to #claimfreedom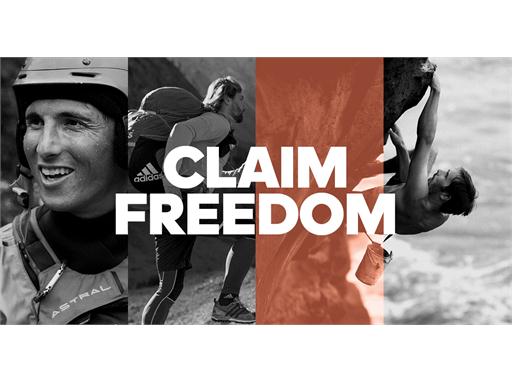 Herzogenaurach, 20 October 2015 – Today, adidas Outdoor launched its global activation calling on creators to share their dream project and stand a chance to become the next adidas Outdoor athlete.
#claimfreedom kicks off with a call to action made by some of the best adidas outdoor athletes such as Kevin Jorgeson, Sasha Di Giulian, Sam Sutton and Pete Henke, inviting the outdoor community to join, share and realise projects with and through adidas Outdoor.
"With the #claimfreedom activation we want to encourage and invite outdoor enthusiasts to live without limits", says Rolf Reinschmidt, General Manager adidas Outdoor. "Whether it is about climbing, skiing, running, biking or flying – the world is an open playground and we are looking forward to helping the most courageous, creative and unexpected projects turn into reality".
Everyone hungry to create is invited to submit a project through a dedicated landing page on www.adidas.com/claimfreedom by December 15 2015.
Projects will be brought to life between March and May 2016. Each idea will be documented, celebrated and shared globally on adidas Outdoor social media channels.
"We want everybody to be part of this experience and this is why we will follow the winners on their projects and share content on real time within our community", says Rolf Reinschmidt. "The activation will not end in May 2016 though, as one of the finalists will be offered the opportunity to join the adidas family as a new adidas Outdoor athlete."
Join the adidas Outdoor experience by following @adidasoutdoor on
Twitter
or
Instagram
using #claimfreedom and at
facebook.com/adidasoutdoor
.
Contact
Client Relations

TheNewsMarket

clientrelations@thenewsmarket.com