17-MAR-2015

SOURCE: CNH Industrial
CNH Industrial manufacturing facility welcomes Royal Visit from HRH The Earl of Wessex KG GCVO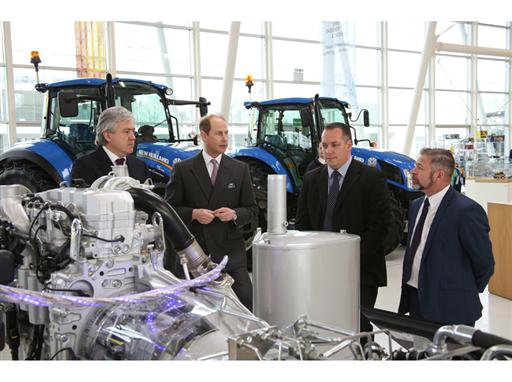 HRH The Earl of Wessex visited the CNH Industrial N.V. (NYSE: CNHI / MI: CNHI) tractor manufacturing facility in Basildon, Essex (United Kingdom) today. The visit is part of the site's 50th anniversary celebrations, which started in May 2014.

A top UK exporter, the facility in Basildon is the only volume tractor manufacturer in the United Kingdom. It represents an important local investment for the Company where it employs close to 1,000 individuals. Today, this facility specialises in the assembly of tractors, predominantly for New Holland Agriculture, a brand of CNH Industrial, which are exported to over 120 countries worldwide. A part of the tractor production for Case IH (also part of the CNH Industrial brand portfolio) is conducted here as well with export to areas outside of Europe, such as the United States and China.

Upon arrival His Royal Highness was welcomed by Plant Manager Colin Larkin together with the Mayor and Chief Executive of Basildon Borough Council. The Earl of Wessex was then introduced to Derek Neilson, CNH Industrial Chief Operating Officer for EMEA (Europe, Africa and the Middle East) who began his career with the Company in Basildon; and Carlo Lambro, Brand President of New Holland Agriculture.

A series of products illustrating the site's history were on display for the Royal Visit, which included examples of the latest tractors produced at the facility.
Contact
Client Relations

TheNewsMarket

clientrelations@thenewsmarket.com