23-FEB-2016

SOURCE: LVCVA
'Midcentury Las Vegas Stage' Spotlights Showroom Acts in Newest Collaboration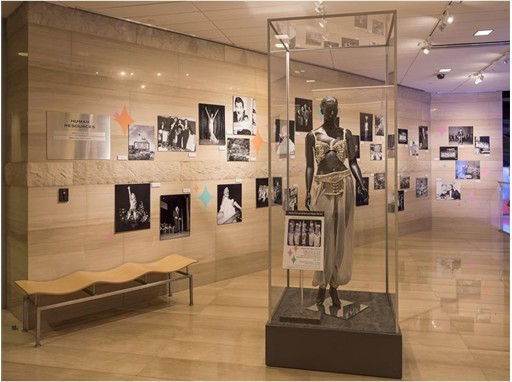 LAS VEGAS -- The new exhibit at City Hall Chamber Gallery titled "The Midcentury Las Vegas Stage: Acts that Built the Entertainment Capital of the World" explores both legendary and obscure stage acts from the perspective of the archives at the Las Vegas News Bureau and the Nevada State Museum, Las Vegas. Rarely seen photographs combined with video footage and stage costumes tell the distinctive story of Las Vegas' original hotel lounges and showrooms.

February 11 to April 21, 2016:

City Hall Chamber Gallery
495 S Main St
Las Vegas, NV 89101


SINATRA'S CENTENNIAL
In recognition of what would have been Frank Sinatra's 100th birthday on December 12, 2015, the Las Vegas News Bureau is celebrating his legendary career in Las Vegas through exhibitions featuring iconic and rarely seen images from its archives. With exhibit narratives written by Deirdre Clemente, Associate Director of Public History for The University of Nevada, Las Vegas, and artifacts on loan from The Nevada State Museum, Las Vegas (courtesy of Tom Dyer) at the Las Vegas Convention Center location, the exhibition highlights Sinatra's impact on Southern Nevada – from his generosity in the community to his undeniable imprint on the Las Vegas entertainment scene.

Through March 15, 2016:

Windmill Library
7060 W Windmill Lane
Las Vegas, NV 89113

February 17 to March 22, 2016:

Federal Foley Building
333 S Las Vegas Blvd
Las Vegas, NV 89101

Through May 31, 2016:

Las Vegas Convention Center Grand Lobby, Central Hall Corridor / Visitor Information Center
3150 Paradise Road
FROM THE VAULT
The Las Vegas News Bureau is sharing never-before seen images with the public through our exhibition "From the Vault"! We have digitized over 17,000 images in the last year as part of our preservation and conservation efforts. The News Bureau has uncovered amazing images that add to the rich history of Las Vegas, and are thrilled to share them with the community.
March 10 to May 1, 2016:

Clark County Library Gallery
1401 E Flamingo Road
Las Vegas, NV 89119
March 23 to April 26, 2016:

Federal Foley Building
333 S Las Vegas Blvd
Las Vegas, NV 89101


Ongoing Exhibits
THE GOLDEN AGE OF GLAM

This exhibition features dramatic and quirky images of entertainers in Las Vegas.
The Cosmopolitan of Las Vegas
Harmon Corridor, 2nd Floor
3708 Las Vegas Boulevard South
Las Vegas, NV 89109
About the Las Vegas News Bureau Exhibitions: The Las Vegas News Bureau, part of the Las Vegas Convention and Visitors Authority, invites you to join us in celebrating 65 years of documenting unforgettable images on film. Over the years, the News Bureau has accumulated a unique collection of photographs and video of Las Vegas' most famous entertainers, hotels, events and the ever-evolving skyline. The News Bureau shares its photo and film collection with the public through community exhibitions. They can be viewed year-round in the Las Vegas Convention Center, with additional traveling exhibits at the local libraries, public buildings, and museums.

Contact
Client Relations

TheNewsMarket

clientrelations@thenewsmarket.com