03-AUG-2015

SOURCE: LVCVA
August 2015 News Brief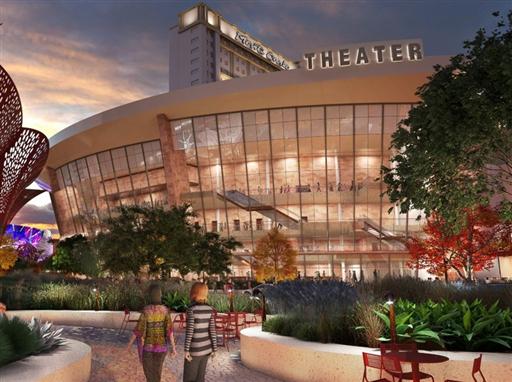 MGM Resorts Announces Development Plans for 5,000-Seat Theater at Monte Carlo
MGM Resorts International, one of the world's leading presenters of live entertainment, has announced plans for an approximately 5,000-seat theater at Monte Carlo Resort and Casino. The new concert venue will amplify the vibrant entertainment district taking shape on the west side of the Las Vegas Strip with a robust calendar featuring special engagements by many of the music industry's most-celebrated performers. Adjacent to The Park and 20,000-seat arena currently under construction on Las Vegas Blvd. between Monte Carlo and New York-New York, the theater will anchor the dynamic new entertainment district currently taking shape. While The Park and Arena are expected to open in April 2016, the Monte Carlo theater is projected to welcome its first act at the end of 2016. Unique to the market, the theater will offer dynamic seating that allows for easy transformation into multiple configurations, reflecting the flexibility of the space. For more information, contact Jenn Michaels, MGM Resorts International, jenn_michaels@mgmresorts.com​.
Encore at Wynn Las Vegas to Undergo Guest Room Refresh with Enhanced Technology and Luxury Amenities
The Encore Resort and the Encore Tower Suites at Wynn Las Vegas will undergo a design refresh beginning summer 2015, with a projected completion date of fall 2015. The project includes updated furnishings, floor coverings, technology, aesthetics, and record-setting custom bed linens. Led by Architectural Digest Top 100 Designer, Roger Thomas and the team at Wynn Design and Development, the rooms will retain the same luxurious quality and elegant look for which Wynn is known. The room modification includes upgraded in-room 55-inch 4K televisions, as well as enhanced technological amenities such as convenient USB ports and outlets for mobile phones and tablets at bedside and desk with environment controls, allowing guests to adjust curtains and lighting from the comfort of their Wynn Dream Bed. Other notable changes include Black Galaxy granite tops and custom-woven floor coverings. For more information, contact Shane Collins, Wynn Las Vegas, shane.collins@wynnlasvegas.com​.
The LINQ Hotel and Casino Completes Renovation
The LINQ Hotel & Casino, Las Vegas' newest resort, has now completed its full resort renovation. Designed with the millennial traveler in mind, the resort offers 2,253 newly renovated guest rooms, the result of a close partnership between Caesars Entertainment Corporation and Elkus Manfredi Architects, including 244 suites, two unique urban loft-style penthouses and 25 first-of-its-kind poolside cabana guest rooms. Guests are also offered a chance to be social, playful and interactive through a completely renovated welcome experience built around a signature lobby bar, new retail and spa amenities and a dynamic pool deck. For more information, contact Chandra Knee, Caesars Entertainment, cknee@caesars.com​.
The Neon Museum Illuminates the Riviera Hotel and Casino Sign
Illuminating for the first time since the property closed on May 4, the Neon Museum officially lit the Riviera Hotel & Casino sign. The Riviera joins a small group of restored signs in the Neon Boneyard that are able to be illuminated. The sign is located just above the iconic Stardust sign. Young Electric Sign Company (YESCO) generously updated the sign by donating a new electrical system and bulbs. For more information, contact Marina Nicola, Vox Solid Communications, mnicola@wearevoxsolid.com​.
The Essential Diana Ross: Some Memories Never Fade Returns to The Venetian Theatre
Back by popular demand, the legendary Diana Ross once again takes the stage and returns to The Venetian Theatre for another residency in November. The exciting encore performances, by one of the greatest entertainers in the world, were announced today by AEG Live and The Venetian Las Vegas. Last April, the renowned superstar sold-out nine shows, wowed audiences and received rave reviews at The Venetian Theatre. Diana Ross once again returns for another NINE SHOWS between Nov 4 – 21. For more information, contact Suzanne Richardson, AEG Live, srichardson@aeglive.com​.
The Filament – "Where Drinking Is Always a Bright Idea" – Lights Up Downtown Las Vegas at The Fremont Hotel and Casino
An inviting new addition to the Downtown Las Vegas scene – The Filament – is now open at The Fremont Hotel and Casino. Featuring a selection of signature cocktails, craft beers and frozen novelty favorites, the Filament offers "Beers. Yards. Liquor. Quicker." in the heart of the Fremont Street Experience. Skilled bartenders will create the bar's menu of signature cocktails, while engaging and interacting with guests. For more information, contact Lindsey Stull, The Firm Public Relations & Marketing, lindseys@thefirmpr.com​.
Pizza Forte Now Open at Hard Rock Hotel and Casino Las Vegas
The city's newest pizza concept, Pizza Forte, opened its second Las Vegas location. Located at Hard Rock Hotel & Casino Las Vegas and just steps away from the property's bustling pool scene, this new location is 1,200 square feet offering walk-up counter service seven days per week. The first Pizza Forte opened earlier this year at Sunset Station in Henderson, Nev. For more information, contact Marina Nicola, Vox Solid Communications, mnicola@wearevoxsolid.com​.
Las Vegas Events Reaches Agreement with the Thomas & Mack Center to Continue Hosting the Wrangler National Finals Rodeo
For thirty consecutive years, the Wrangler National Finals Rodeo has been held at the Thomas & Mack Center. That streak will continue as Las Vegas Events has reached an agreement with the Thomas & Mack Center to host the Wrangler NFR for a length of up to ten years. In 2015, the rodeo will run from Dec. 3 – 12. The agreement mirrors the extension that LVE and the Las Vegas Convention and Visitors Authority signed with the PRCA in January 2014 that keeps the world's richest and most prestigious rodeo in Las Vegas through 2024. For more information, contact Michael Mack, Las Vegas Events, michael@lasvegasevents.com​.
IPEC Las Vegas Debuts City's Newest Conference, Events Venue
This summer, the meetings, events and special occasion-planning industries welcomes IPEC, a first-of-its-kind freestanding events facility conveniently located near McCarran International Airport and the Las Vegas Strip. An elegant design and more than 20,000 square feet of flexible meeting and events space suitable for groups of 50 to 720 attendees, the inclusion of onsite overnight accommodations for up to 200 attendees makes this venue ideal for hosting a variety of unique events. Unlike any other facility, IPEC's overnight accommodations are available exclusively to guests booking an event. IPEC welcomes corporate meetings, association conferences, education events, training seminars or any event when an immersive, focused atmosphere is desired. Meanwhile, its elegant 5,000-square-foot front foyer, with soaring 29-foot-high ceilings, and expansive 10,000-square-foot ballroom make it a perfect venue for weddings, reunions, birthday and anniversary parties—or any other occasion when a stunning backdrop is in order. For more information, contact Erika Pope, Vox Solid Communications, epope@wearevoxsolid.com​.
The World's First Nicki Minaj Wax Figure to Debut at Madame Tussauds Las Vegas
The world's first Madame Tussauds wax figure of multi-platinum, award-winning rapper and singer Nicki Minaj will debut on Tuesday, Aug. 4 at 10 a.m. Minaj's Anaconda video, which has been viewed on YouTube nearly 500 million times, was the inspiration for the provocative pose, styling of her wax figure and detailed set. The ambience of the video—including the jungle backdrop, back-up dancers and special effects-will be recreated for the figure's debut. Minaj's figure will be permanently on display inside of the attraction's Music Room. For more information, contact Marina Nicola, Vox Solid Legendary Comedian Rich Little Returns to Las Vegas StripCommunications, mnicola@wearevoxsolid.com​.
Release: World-Famous Chef Alain Ducasse to Debut Rivea and Skyfall Lounge at Delano Las Vegas Fall 2015
Alain Ducasse, one of the world's most influential chefs, will debut Rivea and Skyfall Lounge at Delano Las Vegas in fall 2015. Rivea – inspired by the casual elegance of the Mediterranean coast – and Skyfall Lounge – a sophisticated nightlife concept – will sit high atop the stunning resort. Influenced by the delectable food markets of Provence and Italy, Alain Ducasse and Rivea Executive Chef Bruno Riou's menu will focus on simple, fresh Mediterranean flavors made with the best West Coast-sourced seasonal ingredients. House-made pizzette, pastas and premium grill offerings with Mediterranean accents embody the nature of the Riviera. For more information, contact Heather Yuille, MGM Resorts International, hyuille@mgmresorts.com​.
Edge Steakhouse expands to Las Vegas with opening at Westgate Las Vegas Resort and Casino
Westgate Las Vegas Resort & Casino has opened its newest fine dining restaurant, Edge Steakhouse. Showcasing an innovative, modern twist on the traditional steakhouse and helmed by award-winning Chef Nick Lees, Edge Steakhouse will treat guests with a cutting-edge culinary experience that blends traditional American steakhouse favorites with an exciting array of specialty appetizers, creative entrées and innovative side dishes. The menu features top quality Aged Prime Steaks, Snake River Farm Wagyu Beef, fresh fish and seafood, and it includes more than a dozen other mouth-watering specialties. Edge Steakhouse also provides a variety of unique tableside dining experiences, including a fresh seafood tower, a tableside prepared Caesar Salad and a delicious array of micro-desserts. For more information, contact Jeff Klein, PR Plus, jeff@prpluslv.com​.
Agassi, Graf, Navratilova and Roddick to Headline Mylan World TeamTennis Smash hits at Caesars Palace
One of tennis' most star-studded charity events is coming to Las Vegas for the first time this fall, courtesy of Sir Elton John and Billie Jean King. Four former world No. 1s - Andre Agassi, Stefanie Graf, Martina Navratilova and Andy Roddick - will headline Mylan World TeamTennis (WTT) Smash Hits on Monday, Oct. 12 at Caesars Palace in Las Vegas, where Elton performs his hit show, "The Million Dollar Piano." Tennis action is set to begin at 7 p.m. on a specially constructed tennis court in the valet parking lot adjacent to Caesars Palace Drive. This year's annual event will benefit the Elton John AIDS Foundation (EJAF) and Aid for AIDS of Nevada (AFAN). A portion of the funds raised at the pre-match VIP Reception and Auction will be specifically targeted for local programs. For more information, contact Kelly Frey, Caesars Entertainment, kfrey@caesars.com​.
International Supermodel Tyson Beckford Returns to Chippendales Las Vegas
Chippendales knows it's so nice to be naughty and because sometimes, when once is just not enough, it's only right to do it again. That's why after breaking box office records during his engagement earlier this spring, Chippendales has announced the return of international supermodel, fashion icon and actor, Tyson Beckford, as a special guest host in its flagship show at Rio All-Suite Hotel & Casino in Las Vegas for an encore engagement. Beckford's penetrating gaze and iconic abs make for a perfect pairing with legendary Chippendales, where he will perform once again for five weeks from August 27 through September 27. For more information, contact Michael Caprio, Caprio Media Design, mc@capriomediadesign.com​.
Kabuki Debuts on Las Vegas Strip at Bellagio
The ancient Japanese art form of Kabuki will debut on the Las Vegas Strip in a never-before-seen spectacle this August. Larger-than-life animations and stunning water choreography will deliver an extraordinary rendition of Kabuki masterpiece Koi Tsukami or "Fight with a Carp" as an enormous fish and turbulent sea are projected onto the Fountains of Bellagio in an epic battle scene. Renowned Japanese actor Ichikawa Somegoro will clash with the giant carp from an impressive 165-foot stage constructed inside Lake Bellagio during the 30-minute production, which will run August 14-16. For more information, contact Stacy Hamilton, MGM Resorts International, shamilton@mgmresorts.com​.
Tule Springs Fossils Return to Nevada
Around 10,000 fossil specimens that were excavated from the Upper Las Vegas Wash in 2002 have returned to Nevada. The fossils were discovered by scientists from San Bernardino County Museum and have been curated in California since that time. The monument was established as a unit of the National Park Service Dec. 19, 2014, to protect and interpret the nationally important paleontological, scientific, educational and recreational resources in the park. The Bureau of Land Management previously managed the area, and hired San Bernardino County paleontologists to protect the fossils and preserve them for the American public. In June, the fossil collection was legally transferred from the Bureau of Land Management to the National Park Service and the fossils were transported from California to the Nevada State Museum. The collection of specimens includes Columbian mammoths, camels, bison, saber-tooth cats, horses and llamas. An exhibit explaining the history of the monument, including how Nevada State Museum scientists discovered an abundance of large animal fossils in the Upper Las Vegas Wash during the Big Dig in 1962, is now on display along with select fossils, including a mammoth tusk. For more information, contact the National Park service, (702) 293-8691.
Life is Beautiful Festival Announces The Return Of The Nationally Prestigious Learning Series
In its third year, Life is Beautiful Festival has announced the 2015 Learning Series featuring thought-provoking, global leaders in pop culture, science, sports, art, leadership and more from diverse backgrounds who have individually impacted the growth of their respective fields. The series, which is focused on providing festival-goers with an authentic, inspirational and passionate experience, will offer live discussions, learning panels and interactive Q&A sessions as part of the three-day festival weekend taking place in Downtown Las Vegas on September 25 -27. This year's learning program will feature three different daily themes in a way that has never been done before: "A Force for Good" highlighting new approaches to giving back to the community, "Shaping The Future" surrounding topics on technology and new media, and "Challenging the Game" with subjects such as overcoming defeat, facing adversity and more. For a complete lineup, visit www.lifeisbeautiful.com. For more information, contact Tamar Aprahamian, PMK∙BNC, tamar.aprahamian@pmkbnc.com​.
Master Magician Dirk Arthur to Reappear With New Show Dirk Arthur Wild Magic at Westgate Las Vegas Resort and Casino
With a thrilling array of spectacular illusions featuring majestic cats, Westgate Resorts announces a new show with master magician Dirk Arthur. Dirk Arthur Wild Magic, scheduled to debut at the International Westgate Theater inside Westgate Las Vegas Resort & Casino on Monday, August 24, is a fast-paced show that interweaves comedy with breathtaking big cat magic, beautiful dancers and large-scale illusions. For more information, contact Laura Herlovich, PR Plus, laura@prpluslv.com​.
New Broadcast Studio on the Las Vegas Strip Celebrates Grand Opening
Lagasse's Stadium is home to the newest broadcast studio on the Las Vegas Strip. The Palazzo Broadcast Studio is home to both Yahoo Sports Radio's Sports X Radio featuring Ken Thomson, weeknights from 7 p.m. to 10 p.m. PT and Ballin' Live featuring former NBA sharp shooter Tracy Murray and basketball analysts Van Coleman and Brett Grant on Tuesday nights from 5 p.m. to 7 p.m. PT. For more information, contact Elaine Chaivarlis, The Venetian and The Palazzo Las Vegas, Elaine.chaivarlis@sands.com​.
Renowned Australian-Based Show "Aussie Hunks" Opens at the D Las Vegas
Las Vegas welcomes the latest strip-entertainment show, Aussie Hunks at the D Las Vegas. The hip-hop show features eight of Australia's hottest, classically trained male dancers as they take the stage to tantalize American audiences for the first time. Aussie Hunks perform a 75-minute male revue show seven nights a week in the Showroom at the D Las Vegas. As seen on Australia's Got Talent and So You Think You Can Dance Australia, Aussie Hunks is the next generation of male revue. Having collectively performed in Australia for more than eight years as "Hunk Mania Australia," this new wave of seductive entertainment is highly explosive, complete with professionally trained world-class dancers and stage performers specializing in break dance, street dance, hip-hop, locking, popping and even illuminated-tron routines. For more information, contact Emma Williams, Preferred Public Relations, emma@preferredpublicrelations.com​.
Contact
Client Relations

TheNewsMarket

clientrelations@thenewsmarket.com