01-JUL-2015

SOURCE: LVCVA
July 2015 News Brief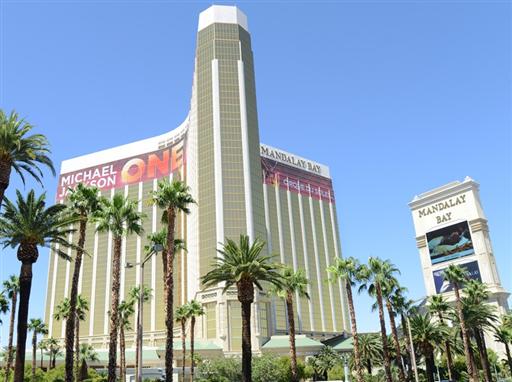 Mandalay Bay Resort and Casino Unveils Newly Designed Guest Rooms and Suites
Mandalay Bay Resort and Casino announced the final phase of its resort-wide transformation with the upcoming redesign of more than 3,000 guest rooms and suites. Created by the MGM Resorts International Design Group, each of the designs for the new rooms and suites will feature vibrant colors and bold statement pieces, exuding a confident and inviting atmosphere. Reservations for select remodeled rooms are now available for stays beginning July 2015. The approximately $100 million remodel includes more than 3,000 guest rooms and suites. The project is expected to be completed by spring 2016. For more information, contact Suzie Rugh, MGM Resorts International, srugh@mgmresorts.com​.
'Reba, Brooks & Dunn: Together in Vegas' Debuts at Caesars Palace
Country music powerhouses Reba, Kix Brooks and Ronnie Dunn reunited onstage to premiere their new, one-of-a-kind residency, REBA, BROOKS & DUNN: Together in Vegas at The Colosseum at Caesars Palace. The superstar entertainers included a unique pairing of their biggest hits and exciting collaborations. Presented jointly by Caesars Entertainment and AEG Live, the show is a culmination of the friendship and musical admiration Reba, Brooks & Dunn have shared since first touring together in 1993. The two-hour production features more than 30 action-packed hits backed by a band of 10 players from both of their touring bands. The set includes solo and joint performances of their signature tracks, including "Fancy," "My Maria" and "Cowgirls Don't Cry," as well as many surprises. For more information, contact Kelly Frey, Caesars Entertainment, kfrey@caesars.com​.
IPW Trade Show Returns to Las Vegas in 2020
Las Vegas will once again host the largest travel trade show in North America in 2020. IPW is the travel industry's premier international marketplace and the largest generator of travel to the U.S. As host city, Las Vegas will showcase the billions of dollars of investment in new resorts, restaurants, attractions, retail, entertainment and everything else that makes it the premiere travel destination. Las Vegas last hosted IPW in 2013 with 6,000 delegates from the U.S. and 70 other countries, 1,300 exhibitor booths, 1,300 international and domestic buyers and nearly 500 media. U.S. Travel estimated the event would generate more than $3.5 billion in future travel to the U.S., with an estimated $350 million of that coming to Las Vegas. For more information, contact Heidi Hayes, LVCVA, hhayes@lvcva.com​.
100 Acres of South Las Vegas Blvd. to be Transformed into the Newest Only-In-Vegas Experience
SPEEDVEGAS was recently given the green light to transform 100 acres of South Las Vegas Blvd. into the destination's newest, adrenaline-inducing supercar experience. The SPEEDVEGAS experience will feature a welcome center, event center and masterfully designed supercar course. Located just 10 minutes from the world-famous "Welcome to Las Vegas" sign, SPEEDVEGAS is poised to become a South Las Vegas Boulevard iconic destination. SPEEDVEGAS is scheduled to open in January 2016. For more information, contact Colin Daviau, SPEED Vegas, colin@speedvegas.com​.
Pitbull to Headline Limited Engagement, 'Time of Our Lives,' at the AXIS at Planet Hollywood Resort & Casino
Global music superstar, Pitbull will perform a seven-night limited engagement at The AXIS at Planet Hollywood Resort & Casino with a unique Vegas show, "Time of Our Lives," Sept. 23 through Oct. 7. Mr. 305 and Mr. Worldwide, known around the globe as Pitbull, is an internationally successful musician, performer, business entrepreneur, fashion icon and actor. His career sales have exceeded five million albums and 60 million singles worldwide, including his current album, Globalization. Pitbull has scored #1 hits in more than 15 countries, his videos have over seven billion views, and his world tours have sold out concerts in North and South America, Europe and the Far East. For more information, contact Kelly Frey, Caesars Entertainment, kfrey@caesars.com​.
USA Sevens International Rugby Tournament Commits to Las Vegas Through 2019
United World Sports, the owner and operator of the USA Sevens International Rugby Tournament, and World Rugby announced that the tournament is confirmed to return to Las Vegas through 2019, following five consecutive years of attendance growth. The three day tournament will take place March 4-6, 2016, following a week full of rugby festivities beginning on Monday, Feb. 29, 2016. Since its debut in Las Vegas in 2010, the attendance at the USA Sevens Rugby International tournament has more than doubled. The 2015 tournament saw more than 75,000 rugby fans take over Sam Boyd Stadium in February shattering all previous records. For more information, contact Jackie Dadas, Kirvin Doak Communications, usasevensrugby@kirvindoak.com​.
Christian Louboutin Debuts New Store at The Shops at Crystals
Prestigious French footwear and accessory designer Christian Louboutin joins the unsurpassed collection of luxury retailers at The Shops at Crystals. Set to open in fall 2015, the boutique will feature men's and women's shoes, handbags, small leathers goods and more. For more information, contact Dara Cohen, MGM Resorts International, dcohen@mgmresorts.com​.
New Retailers and Property Enhancements at The Forum Shops at Caesars
Globally recognized as the premier address for luxury retail, The Forum Shops at Caesars has a distinguished history and track record of success in being first to bring many of the worlds most celebrated designers to the destination. Versace, Giorgio Armani, Ferragamo, Fendi, Gucci, Louis Vuitton and Cartier selected The Forum Shops as the preferred location in Las Vegas to open their first store. Today, the renowned shopping center boasts more than 160 shops and restaurants – more than 45 of which can only be found in Las Vegas at The Forum Shops at Caesars. In the past year, The Forum Shops welcomed 17 new tenants and four more expanded or renovated within the famed center. Six more will renovate or expand in the coming year including; Ted Baker London, Lucky Brand, Custo Bacelona, Stuart Weitzman and Dior Beauty. More than five new stores are expected to open in the coming year including; Sam Edelman, Kate Spade, Canali, Creed, Paul & Shark, Fossil and Vince. For more information, contact Michelle Loosbrock, Jeff Wagner Agency, michelle@jeffwagneragency.com​.
Historic Railroad Trail Designated as National Historic Trail
U.S. Secretary of the Interior Sally Jewell and National Park Service Director Jonathan B. Jarvis have designated the Historic Railroad Tunnel Trail at Lake Mead National Recreation Area and the Hoover Dam as a national recreation trail. This designation recognizes trail systems that link communities to recreational opportunities on public lands and in local parks across the nation. A total of 10 trails nationwide received the designation. The 3.5-mile, multi-use trail connects the National Park Service's visitor center within Lake Mead National Recreation Area with the Bureau of Reclamation's Hoover Dam. The trail, constructed on an old railroad grade that goes through five tunnels used during dam construction, offers panoramic views of Lake Mead, Boulder Basin, Fortification Hill, massive crystalline rock formations and the rugged Mohave Desert. Panels along the trail provide educational information. For more information, contact the National Park Service, (702) 293-8693.
Pressed Juicery to Make Las Vegas Strip Debut at ARIA Resort & Casino
Pressed Juicery, one of the nation's premier juice brands, will open its doors this summer at ARIA Resort & Casino. Industry leaders in accessible wellness, nutrient-rich cold-pressed juices and customizable cleanse programs, Pressed Juicery is excited to offer its range of products to Las Vegas guests and visitors alike. Whether looking for a healthy beverage, a cold drink to refresh taste buds or a midday pick-me-up, Pressed Juicery's delicious juices, signature beverages and specialty waters cater to all preferences. For more information, contact Ashley Farkas, MGM Resorts International, afarkas@mgmresorts.com​.
Legendary Comedian Rich Little Returns to Las Vegas Strip
Legendary comedian and impersonator Rich Little will return to the Las Vegas Strip with the debut of his new autobiographical one-man show "Rich Little Live" at the world-famous Laugh Factory inside The New Tropicana Las Vegas. Featuring a compilation of impersonations, sketches and interactive video of the actors, musicians, politicians and personalities Little has worked with throughout his more than 50 years in entertainment, spanning from his television career in Canada to his first United States appearances to the present day, "Rich Little Live" will premiere Tuesday, July 14 at 7 p.m. For more information, contact Jeff Klein, PR Plus, jeff@prpluslv.com​.
Neon Museum's La Concha Visitors' Center Named to NV State Register of Historic Places
The Neon Museum's La Concha visitors' center building has been named to the Nevada State Register of Historic Places. Formerly the lobby for the La Concha Motel, originally located on Las Vegas Blvd. just south of the Riviera Hotel and Casino, the building was designed by Paul Revere Williams, the first African-American member and fellow of the American Institute of Architects. Constructed in 1961, the lobby for the 100-room motel was inspired by the "Googie," or coffee-shop, architectural style popular in the mid-century American West. Its whimsical, curvilinear form constructed of thin-shell concrete and glass was designed to resemble a seashell and be immediately recognizable from the street. Because this style was not seriously regarded as a legitimate architectural movement until relatively recently, the La Concha remains one of the few existing examples of the once-popular roadside design and one of the only ones designed by an acclaimed architect. For more information, contact Marina Nicola, Vox Solid Communications, mnicola@wearevoxsolid.com​.
RiSE Lantern Festival Announces Return to Las Vegas
Returning once again to the Las Vegas-area, RiSE – a lantern festival which celebrates the collective elevation of peoples' hopes, dreams, resolutions, goals and desires – will take place at the Moapa River Reservation (approximately 35 miles northeast of Las Vegas, adjacent to Valley of Fire State Park) on Saturday, October 10. Attendees can enter the event site starting at 3 p.m., where they will be welcomed with live music, food and activities such as lantern decorating. A simultaneous lantern release of an expected 20,000 units will occur after sundown. Parking is available on-site and shuttles from the Las Vegas Strip will also be an option for those who cannot drive themselves. For more information, contact Langdon Flynn Communications at rise@langdonflynn.com​.
Therapy Las Vegas Opens in Fremont East Entertainment District
Therapy Las Vegas, located in the Fremont East Entertainment District of downtown Las Vegas, recently celebrated its official opening. Therapy combines the best elements of downtown dining and drinking into one destination complete with an American gastro-style menu by Executive Chef Daniel Ontiveros and a full bar program with more than 40 craft beers and signature drinks. For more information, contact Aaron Ewert, Wicked Creative, aaron.ewert@wickedcreative.com​.
Anchor Bar Las Vegas Opens at The Venetian
Anchor Bar, the iconic Buffalo, NY institution opened its first West Coast outpost in the Grand Canal Shoppes at The Venetian. Inventors of The Original Buffalo Wing, Anchor Bar boasts creating the prized recipe that started a nationwide sensation. Anchor Bar Las Vegas will serve the classic wings as well as new flavors. A mix of East Coast favorites like Beef on Weck and Chicken Cheesesteaks join new options like Kale Salad and Sweet Potato Tots to create a distinctly Las Vegas menu. For more information, contact Kathryn Palmer, Bread and Butter Public Relations, Kathryn@breadandbutterpr.com​.
The New Tropicana Las Vegas Launches Dog-Friendly Room Product
It's a ruff life at The New Tropicana Las Vegas with new dog-friendly rooms. Highlights of a Las Vegas resort experience staying in one of our new dog-friendly rooms include the following: a prime location on the Strip, residential-style accommodations, proximity to an assortment of dog parks, dog-friendly hiking trails and attractions and select dog supplies are available upon request. Each dog-friendly room allows two dogs with a combined weight of 50 pounds or less. For more information, contact The New Tropicana Las Vegas, PR@TropLV.com​.
X COMEDY Uncensored Fun Premieres at Flamingo Las Vegas
The producers of X Burlesque and X Rocks have announced the expansion of the "X" brand with the hilarious premiere of X COMEDY Uncensored Fun at Bugsy's Showroom inside Flamingo Las Vegas. Hosted by comedy veterans Nancy Ryan and John Bizarre, X COMEDY Uncensored Fun features non-stop laughs and a hysterical lineup of comedians, including PIFF the Magic Dragon and his sidekick Mr. Piffles, the "TV Guy" Joe Trammel, Dennis Blair and more. For more information, contact Jeff Klein, PR Plus, jeff@prplus.com​.
Go Under the Sea at Bellagio's Conservatory & Botanical Gardens' New Display
Bellagio's Conservatory & Botanical Gardens' newest exhibition takes guests into the depths of the ocean with schools of acrylic fish and bright barnacles through September 12. The West Garden features a multi-tiered, 26-foot-tall coral reef with cascading water walls. Nearby, a sunken fishing vessel with treasure chests overflowing with twinkling jewels is burrowed below the sand and flowers. The nearby gardens showcase a fisherman's wharf, a sandcastle replica of Bellagio and a beautiful mermaid with a tail comprised of 1,500 fresh-cut flowers settled next to colorful seahorses. For more information, contact Brittany Harris, MGM Resorts International, bharris@mgmresorts.com​.
Siegel's 1941 Opens in Downtown Las Vegas
Bugsy Siegel's lust for extravagance set the scene for modern-day Las Vegas. Paying homage to Siegel and his inner circle of original mobsters, El Cortez Hotel & Casino has opened the doors to the highly anticipated dining concept, Siegel's 1941. The 24-hour restaurant occupies the location of former favorite, The Flame, and boasts beautiful new floor-to-ceiling windows and a tiled ceiling with vintage-style lighting. With 150-seats, the spacious dining room is filled with wooden tabletops, dramatic red leather booths, and a separate bar with additional seating. An impressive display of archival artworks completes the look giving guests a glimpse of the city's past. Under the supervision of Chef Aaron Neeley, Siegel's 1941 offers extensive menus filled with modern twists on classic American standards. For more information, contact Katie Conway, Bread and Butter Public Relations, Katie@breadandbutterpr.com​.
Buca Café Italiano Now Open at Bally's Las Vegas
The Strip recently welcomed a new staple to Bally's Las Vegas with the debut of Buca Café Italiano. Owned by the iconic Planet Hollywood International and open for breakfast, lunch and dinner, the restaurant offers a selection of traditional dishes and deliciously different buffets all day. Open from 6AM-10PM Sunday through Thursday and 6AM-11PM Friday and Saturday, Buca Café Italiano pays homage to your favorite Italian cafés with a lively atmosphere, quirky decor and food that is delizioso. With more than 300 seats and unique settings like the Pope room, where you can dine on giant 1/2 lb. meatballs, the restaurant offers something for everyone. For more information, contact Nick Carcaterra, Shadow Public Relations, nick@shadowpr.com​.
Tequila Taqueria Opens at Bally's Las Vegas
A new staple is now open inside Bally's Las Vegas with the debut of Tequila Taqueria. Owned by Planet Hollywood International, the property brings a great, fun filled food and cocktail restaurant to the Las Vegas Strip. At the 80-seat restaurant and bar, which is open seven days a week from Noon to 6 a.m., you'll experience the soul of Mexico. Enjoy delightfully fresh Mexican dishes and beverages set to a backdrop of revolución imagery, vintage tortilla presses and other interesting cultural icons. Refresh your parched throat taste buds with a selection from of 37 premium tequilas and 10 ice-cold Mexican beers. And the food borders on spectacular, too. Start with fresh-pressed corn and flour tortillas filled that are lovingly and hand-rolled with the freshest ingredients. Whether it's authentic tacos, enchiladas, fajitas, tortas, tableside guacamole or even a late night breakfast you seek, your taste buds will be liberated. For more information, contact Nick Carcaterra, Shadow Public Relations, nick@shadowpr.com​.
Contact
Client Relations

TheNewsMarket

clientrelations@thenewsmarket.com