26-APR-2012

SOURCE: Rotary International
Rotary brings the world to Bangkok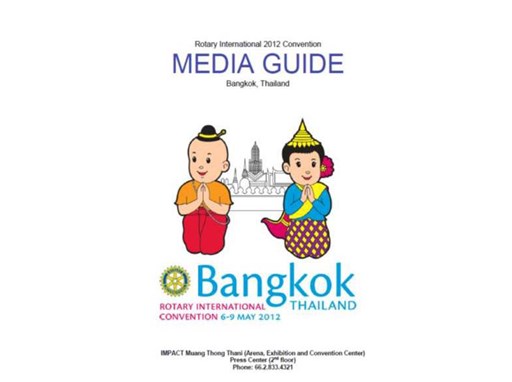 The "Land of thousand smiles" will host Rotary's annual international convention on 6-9 May, attracting more than 35,000 member registrants from over 160 countries.
Often described as a "mini-United Nations" because of its global scope and cultural diversity, the humanitarian service organization's always colorful convention is expected to inject more than US$100 million (3 billion baht) into the local economy during its run at
IMPACT Muang Thong Thani
(Arena, Exhibition and Convention Center).
Her Royal Highness Princess Chulabhorn Walailak Akra Rajakumari will represent His Majesty the King at the convention opening ceremony (10:30 a.m. Sunday, 6 May) in Challenger 1 and 2 (halls). Flags of the 200 countries and regions where Rotary clubs serve their communities will be presented on stage, followed by a performance of the National Anthem of Thailand by pop star Tata Young. A plenary address by Rotary International president
Kalyan Banerjee
, will follow at 12 Noon.
The convention gives members of the volunteer service group the opportunity to share success stories, exchange ideas, and renew acquaintances. The IMPACT Center will be transformed into a kaleidoscope of energy, color and excitement as Rotary members participate in a broad agenda of plenary sessions, workshops and other activities focused on how Rotary clubs help improve communities worldwide through volunteer service. Displays showcasing hundreds of Rotary's humanitarian and education projects and programs will be open daily to convention registrants at the aptly named 'House of Friendship' exhibition area from 5-9 May in Challenger 3 (Hall).
Rotary's top priority is the global eradication of polio, a crippling and potentially fatal disease that still threatens children in portions of Africa and Asia. The fight against polio is particularly important to the convention leader, Rotary International President
Kalyan Banerjee
, of Gujarat, India. In January, his homeland, once an epicenter of the disease, reached a historic milestone by going an entire year without recording a single new polio case, followed by its removal in February from the World Health Organization's list of polio-endemic countries.
Rotary launched its polio eradication program in 1985, and in 1988 helped launch the
Global Polio Eradication Initiative
. Rotary club members worldwide have contributed more than $1 billion (30.7 billion baht) and countless volunteer hours to the effort.
Rotary members will celebrate their success in raising more than $200 million (6.1 billion baht) in new funding for polio eradication. The fundraising milestone was reached in response to a $355 million (10.9 billion baht) challenge grant from the Bill & Melinda Gates Foundation. All funds are earmarked to support polio immunization activities in affected countries where this vaccine-preventable disease continues to paralyze children.
Dr. Bruce Aylward
, assistant director-general for Polio, Emergencies, and Country Collaboration at the World Health Organization, will give an update on the status of polio eradication (11 a.m. Tuesday, 8 May) in Challenger 1 and 2 (Halls).
Other highlights include keynote speakers
Dr. Muhammad Yunus
(11:30 a.m. Monday, 7 May), 2006 Nobel Peace Prize recipient, an honor he shared with
Grameen Bank
; Hugh Evans (9:30 a.m. Monday, 7 May), co-founder and CEO of the
Global Poverty Project
; Angelique Kidjo (10 a.m. Monday, 7 May), Grammy Award-winning singer-songwriter and peace advocate; Amanda Martin (9:30 a.m. Tuesday, 8 May), 2011 alumna of the
Rotary Peace Center at Chulalongkorn University
in Bangkok now with the Global Health Access Program; and Dr. José Ramos-Horta (11 a.m. Wednesday, 9 May), President of the Republic of Timor Leste and 1996 Nobel Peace Prize Laureate.
Preceding the convention will be the Rotary World Peace Symposium, a three-day conference that will bring together more than 150 students and alumni of Rotary's
Peace Centers Program
, a peace studies initiative that provides future leaders with the skills and tools needed to resolve conflicts and promote peace. Also in attendance will be approximately 250 Rotary members and other supporters of Rotary's peace efforts from around the world.
Nobel Peace Prize laureate
Leymah Gbowee
(12 Noon, Saturday, 5 May) will deliver the keynote address at the Rotary World Peace Symposium, where students and alumni of Rotary's
Peace Centers Program
that will take part in a dialogue on peace-building 3-5 May at the Grand Diamond Ballroom at the IMPACT Muang Thong Thani (Arena, Exhibition and Convention Center).
Other plenary speakers will include Emmanuel Jal (9 a.m. Thursday, 3 May), a former Sudanese child soldier who has worked on behalf of
Save the Children
,
UNICEF
, the
World Food Programme
, and
Christian Aid
; renowned African peace advocate and singer Angelique Kidjo from Benin (3 p.m. Friday, 4 May); and
(9 a.m. Friday, 4 May), Rotary International President-elect, who has made world peace one of his top priorities when he takes office as the humanitarian service organization's 102nd president on 1 July 2012.


Rotary
is a worldwide organization of business and professional leaders who provide humanitarian service and help to build goodwill and peace in the world. Rotary's global membership is approximately 1.2 million men and women who belong to more than 34,000 Rotary clubs in more than 200 countries and geographical areas. For images and broadcast quality video visit Rotary's
Media Center
.
Contact
Client Relations

TheNewsMarket

clientrelations@thenewsmarket.com