15-MAY-2012

SOURCE: Rotary International
Rotary's Bangkok Convention Highlights Impact of Private Sector in Solving World's Most Pressing Problems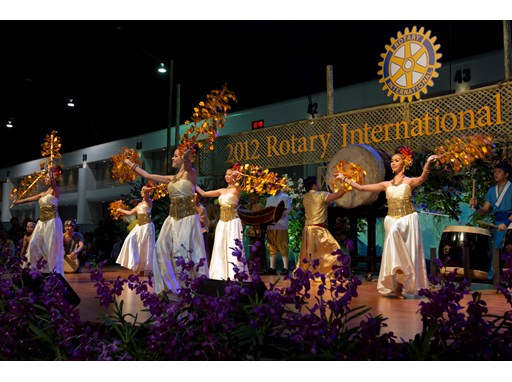 The 2012 Rotary International Convention that just wrapped up at Bangkok's IMPACT Arena, Exhibition and Convention Center could not have been held at a more aptly named venue.

That's because the humanitarian organization's largest and most important annual meeting is all about impact, from the global impact of Rotary's leadership in polio eradication – the event's highest profile topic -- to the estimated economic impact of $100 million (3 billion baht) that flowed into the host city as more than 35,000 Rotary members from over 160 countries gathered May 6-9 for the convention and related events.

And scores of international Rotary volunteers also were determined to leave a personal impact on the host city and environs, joining their Thai counterparts to help build a children's playground -- dedicated during the convention -- and restoring a school damaged by the recent flooding. After the convention, teams of Rotary health professionals traveled to Lopburi and Nakhonphanom provinces to provide free medical care to more than 2,000 people.
Contact
Client Relations

TheNewsMarket

clientrelations@thenewsmarket.com