17-MAY-2013

SOURCE: The Linde Group
Linde to Refuel World's First Hybrid Hydrogen Race Car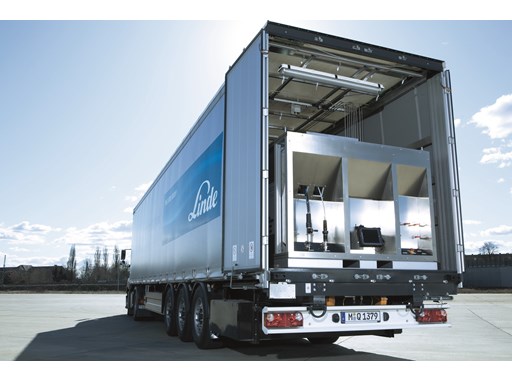 The Nürburgring 24 Hours Race on 19 and 20 May 2013 will see the world premiere of a very special Aston Martin race car - the first hybrid hydrogen-powered race car to compete in an international motorsport event. The technology company The Linde Group will be responsible for refuelling the car with hydrogen at the race track.

Linde has developed a mobile hydrogen refuelling unit, ideally suited for locations without a stationary hydrogen infrastructure. The 14 metre-long truck and trailer unit trailH2-gas™ is equipped with two separate high-pressure couplings for gaseous hydrogen (CGH2) and stores the gas at 300 and 450 bar in cylinder packs. The trailH2-gasTM can further compress the hydrogen on-board to reach pressures of up to 700 bar, depending on requirements. For this project, however, a pressure of 350 bar is needed.

For racing purposes, the usual automated refuelling procedure, which takes a few minutes, will be replaced by a manual, supervised refill, reducing the necessary stopover to less than a minute.

Available material includes images of the trailer unit trailH2-gas™ and Hybrid Hydrogen Aston Martin Rapide S.
Contact
Client Relations

TheNewsMarket

clientrelations@thenewsmarket.com