UEFA President speaks to fans on YouTube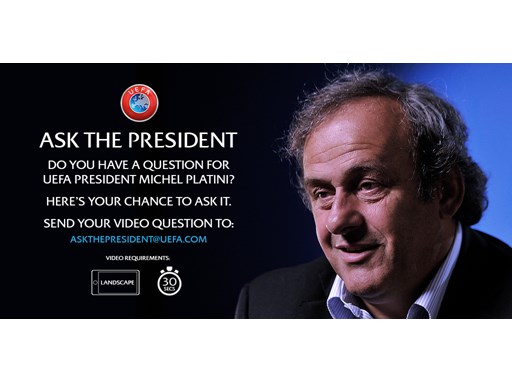 Just a few days before the
XXXIX UEFA Congress in Vienna
, where
seek a mandate for a third
,
Michel Platini
will answer video questions sent by football fans from around the world.
The interview, to be shown on
UEFA.org
and
UEFA's YouTube channel
on Monday 16 March, will bring the UEFA President face to face with supporters and some members of the football community who want to know more about what it is like to be the man at the heart of European football.
Fans are invited to send their questions in a video format by email to askthepresident@uefa.com. The images provide information on video format preferred.​The questions, which can be on any subject, should not exceed 30 seconds in length, and should be asked in a respectable manner. The best will be selected and played to Mr Platini to answer.
Contact
Client Relations

TheNewsMarket

clientrelations@thenewsmarket.com