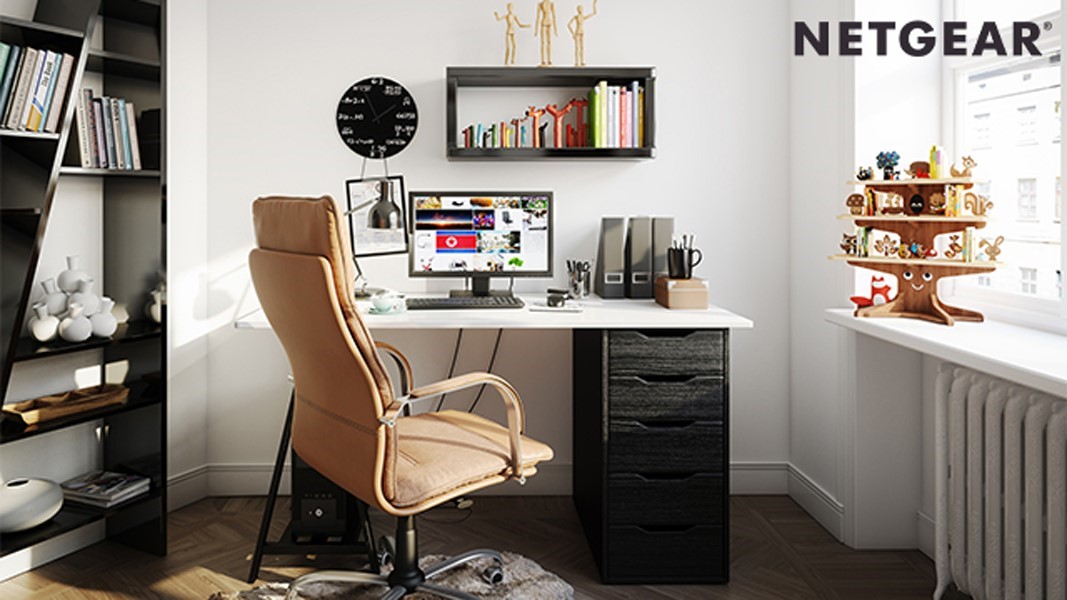 By now, most of us – including the team here at NETGEAR – have been affected by the coronavirus, whether it's in the form of travel interruptions, schools moving to "distance learning" models, or businesses implementing work from home policies. Whether or not your company is at that point yet, for those of us who work in office environments it is important to start considering how to be effective while working remotely. 
Here are some of the top tips that our NETGEAR team has found helpful in improving our work from home situation:
WFH Tip 1. Have a dedicated workspace. Creating an environment that you're comfortable to work in is an important part of working from home. Sure you can work from the comfort of your bed or couch, but just how productive will you be? If possible, a room dedicated for a home office would be ideal… but if that's isn't feasible, dedicating a workstation where you can easily have your laptop or computer stationed along with any office supplies like notepads, pens, sticky notes, and other supplies will prove important.
WFH Tip 2. Minimize distractions. TVs. Kids. Pets. Phones. All are common distractions when you're at home under normal circumstances, and in the context of telecommuting they can really hurt productivity. Overcoming distractions at home is challenging, but can be manageable… and  being aware of potential distractions is a good start. Let your kids simply know that while you're at home, you are still very much working and it's important for you to stay focused. 
WFH Tip 3. Keep working normal hours and routines. We are all creatures of habit and having a routine definitely makes us feel comfortable. Any time a wrench gets thrown into that routine, it can easily make us uncomfortable. For newcomers to the concept of working from home it's important to try to keep working hours and/or routines similar to those you keep when going into the office. 
WFH Tip 4. Max-out your WiFi Capabilities. WiFi environments can get pretty complex with a large, growing number of devices connected to our home networks. At the very least you want to make sure your network is running a WiFi 5 (AC) or WiFi 6 (AX) router. With a WiFi 6 router, overloading your WiFi with multiple devices becomes an afterthought.
WFH Tip 5. Plug-in to Ethernet if you can. Even though modern WiFi 6 and Mesh WiFi are extremely fast and reliable, a hard-wired connection is still a great way to get a good connection. You can also help improve your WiFi situation by removing certain devices off WiFi to clear the airwaves for the devices that absolutely need it, such as tablets and laptops.
For NETGEAR's blog and its full list of tips for working from home, click on this link.
https://blog.netgear.com/blog/networking-tips-for-working-from-home/