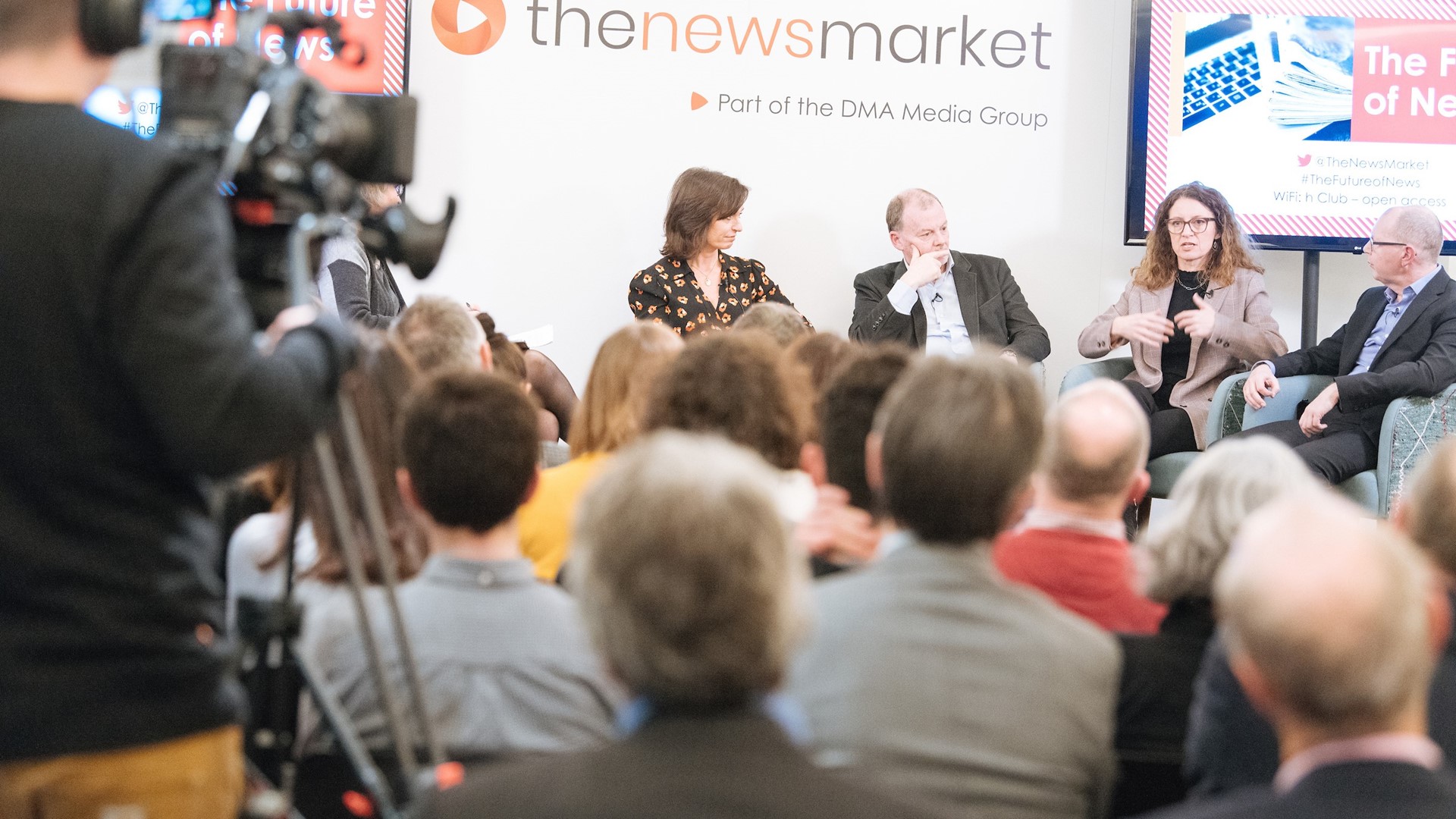 Wednesday 5th February 2020: The Future of News Live debate
Trust and accountability are the "big battle grounds for the future in news." This was one of the key takeaways from The Future of News live debate that took place at London's Hospital Club on Wednesday 5th February 2020.
The debate brought together a panel of four leading news specialists and a packed audience of journalists and communications professionals.
Trust in the news, the diversification of news providers and accountability were all themes touched on during the discussion and the Q&A that followed.
The panel featured Richard Sambrook, Professor of Journalism at Cardiff University, Naja Nielsen, Digital Director of BBC News, Gary Rogers, Editor-in-Chief of RADAR AI and Samantha Glynne, SVP of Branded Entertainment at Fremantle.
The event was chaired by Presenter and Journalist Kate Bulkley.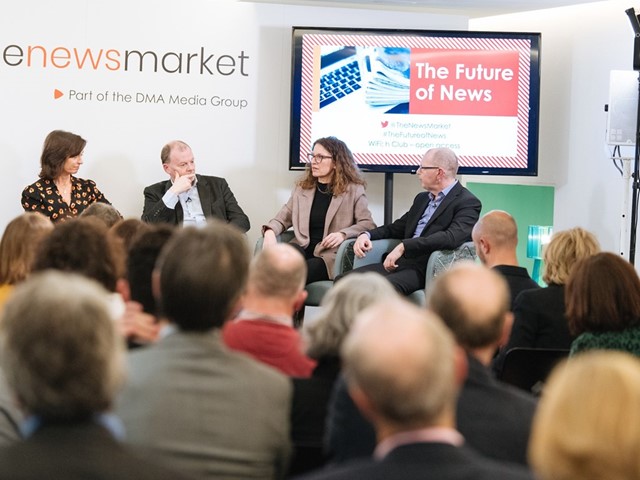 4 panellists at The Future of News Live
At 6pm, CEO of DMA Media Rob Beynon welcomed the guests and introduced DMA Media. He then announced the official unveiling of thenewsmarket.com, the next-generation content aggregator built for brands and journalists.
The stage was set. Host Kate Bulkley introduced the panel individually, and began with an open question: are trusted sources of news changing?
Richard Sambrook responded: "Trust is a tricky word, as is truth. I tend to lean towards a more important question: where do people find value? Is it in information? Transparency? Expertise?  There is a trust deficit in news, but it's about scale and how people consume information."
Panellist Naja Nielsen dismissed the idea that social media can be an echo chamber for news stories. "In reality, people are seeing news content from more providers than ever before, and we often end up aligning ourselves with sources we trust."
Editor-in-chief of RADAR AI Gary Rogers agreed: "there is a great diversification of news providers, and now everyone seeks news that is personally relevant and informative for them. News channels and distribution platforms are learning to adapt to this. News consumption is already highly personalised."
Host Kate Bulkley then asked the panel how brands have a role to play in news creation.
Samantha Glynne said: "brands are beginning to link up with new media such as TikTok to create content that is tailored to a new generation of audiences."
Richard added to this point, saying: "businesses and brands are taking up greater responsibilities in the public debate, and it's not clear whether PR's have realised that companies have a more vital role to play.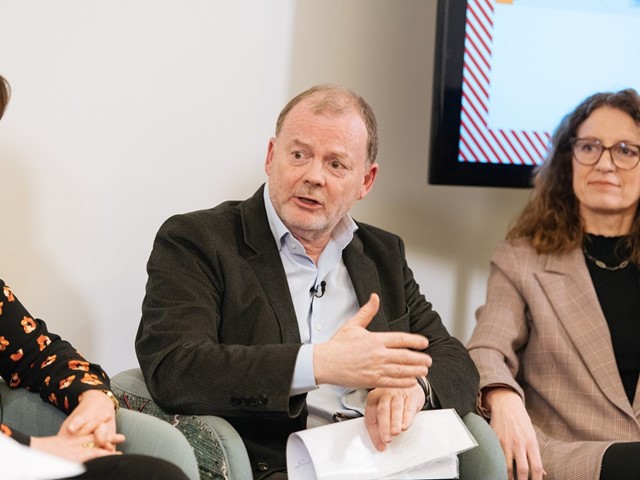 Panellist Richard Sambrook fields a question
There is an opportunity for a more constructive partnership between brands and newsrooms.
The discussion then moved to the topic of accountability and scrutiny. The panel agreed that this would be a vital development in decades to come. Gary Rogers called these the "big battle grounds for the future in news."
Naja said that journalists needed to be more transparent with stories and the process of finding the information used for building them. "None of us in the room today have consumed the same set of news today. It's already personalised to us."
The debate finished and the floor was open to the audience. A question was asked to Naja and Richard about the existential crisis facing regional journalism.
Richard said that journalism is undergoing profound change but will always be essential, and Naja added to this saying that there were more quality journalists and platforms than ever before.
The next audience question focused on individuals being their own news providers. Richard was keen to clarify the difference between being a journalist and being an eyewitness.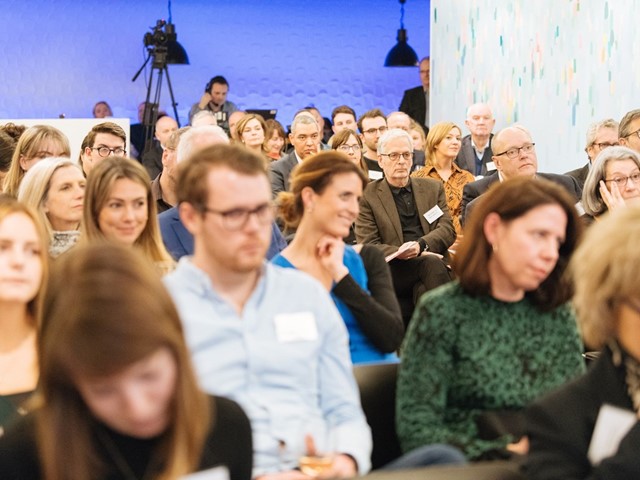 Over 100 guests filled the event space
Richard continued to say that podcasting was the next phenomenon to watch for the future of news content.
The final question was aimed at Naja about the decriminalising of the licence fee and how the BBC needs to show its value to survive.
Naja said that the reason the BBC are able to deliver such quality programming across news and entertainment is because everyone contributes. She said that alternative models for producing such a high standard and versatility of media would be very hard to find.