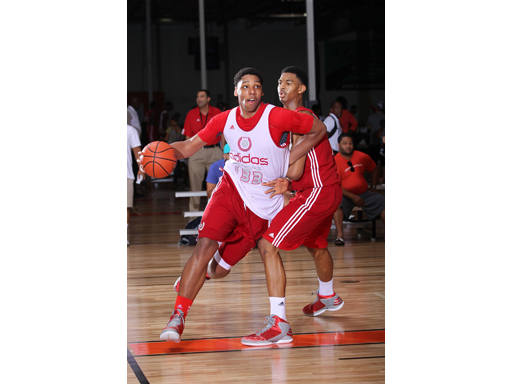 adidas today announced the roster for adidas Nations, the premier international grassroots basketball program. Practices, pool play and college counselor games will be held August 2-4 at the Next Level Sports Complex in Garden Grove, Calif., and the championships played at Long Beach City College on Monday, August 5 at 4pmPT/7pmET and broadcast live on ESPN U.
The country's top-ranked high school players will participate including Jahlil Okafor (Whitney Young HS/Chicago), Kevon Looney (Milwaukee Hamilton/Milwaukee), Myles Turner (Euless Trinity/Dallas), Trey Lyles (Arsenal Technical HS/Indianapolis) and Stanley Johnson (Mater Dei/Fullerton, CA).
The world's elite 18-and-under players from nine international teams including Africa, Asia, Australia, Europe, Latin America, USA 2014 and USA 2015/2016 will train and compete in the prestigious annual program.
In addition to the world-class competition, adidas Nations attendees will receive professional on-court coaching and training, as well as off-court instruction on nutrition, leadership, discipline, philanthropy and global interactions. This will be led with a mix of current and former NBA players and coaches including Damian Lillard (Portland Trail Blazers), Kenneth Faried (Denver Nuggets), Iman Shumpert (New York Knicks), Fran Fraschilla, Ralph Sampson and Eddie Johnson, among others.
The culmination of adidas Nations will feature championship and third place games at Long Beach City College Hall of Champions Gym – 5000 E. Lew Davis Street, Long Beach, CA 90808.
For more information please visit
http://news.adidas.com/global/basketball
.
About adidas Basketball
adidas has been providing innovative products for the world's best athletes for more than 60 years, from past legends to today's superstars, such as Derrick Rose, Dwight Howard, Candace Parker, Tim Duncan and Chauncey Billups. On April 11, 2006 adidas and the National Basketball Association signed an 11-year global merchandising partnership making the adidas brand the official uniform and apparel provider for the NBA, the Women's National Basketball Association (WNBA) and the NBA Development League (D-League) beginning with the 2006-07 NBA season.