29-JUL-2016

SOURCE: adidas
AC Milan Prepares For New Season In Latest adidas First Never Follows Film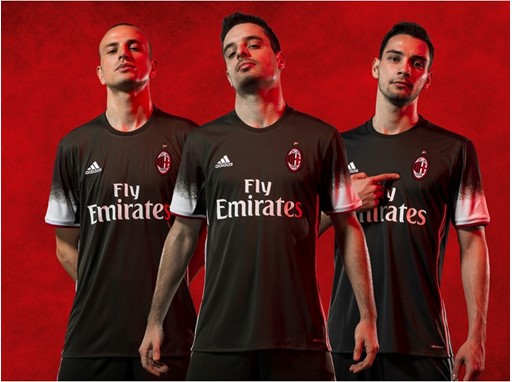 AC Milan Prepares For New Season In Latest adidas First Never Follows Film
- AC Milan film launches new club third kit for 2016/17 season –
- Film sees a figure made up of fan images prepare for the season in a stadium changing room - 
- New X16+ PURECHAOS boots feature in AC Milan film -
Herzogenaurach, 29th July 2016 – adidas has today launched an AC Milan special as part of its new First Never Follows film series. The film celebrates and highlights the fans' passion for the club, featuring iconic moments from AC Milan's past digitally combined to make a single figure who then pulls on the new jersey ready to take on the new season.
The series – featuring bespoke films of some of the biggest clubs, players and managers in the world - provides a defiant response from a series of star players to the feverous gossip, debate and hype that surrounds each club in the build-up to the start of the 2016/17 season.
The AC Milan film focuses on a figure ignoring a locker room full of "blah" as it prepares to step out onto the pitch and ready itself for the challenges of the season ahead.
The film debuts the new AC Milan third kit for the coming season. The adidas three stripes have been moved from the sleeves to the side of the jersey to allow for a more creative design on the sleeves, with a white spray paint effect which pays tribute to the Italian flag.
The film also showcases the new Speed of Light boots – X16+ PURECHAOS in Solar Red – which will be worn on-pitch for the start of the 2016/17 season.
For further information please visit adidas.com/football or go to facebook.com/adidasfootball or follow @adidasfootball on twitter to join the conversation.