01-OCT-2012

SOURCE: adidas
adidas' Tests New Window Shopping Experience of the Future at Nürnberg NEO Store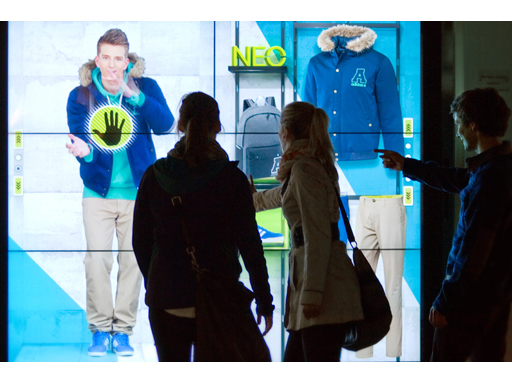 adidas is taking window shopping to a new level with an interactive digital window concept that connects with consumers' smartphones making it magically easy to shop at any time without an app or scanning various QR codes. German teens shopping for the latest fashion items will use it for the first time during a six-week pilot test at the adidas NEO Label store-front in Nürnberg.

Vice President Global Retail Environments adidas Brand, Ted Mager said: "After the success of the Social Media Mirror, one of our latest retail innovations, we're excited to prove our innovation leadership yet again by introducing the latest advancement in window shopping. Our NEO teen fashion label offers the perfect environment to test this new and stimulating shopping experience because for us NEO means new: new by definition, new in concept and new in spirit."

The new storefront window is a fully functioning virtual store with life-size products. The intuitive interface of the touch-screen window lets shoppers explore, play and drag life-size products they are interested in directly into their smartphone for easy and convenient purchase from adidas NEO online.

By visiting a simple URL via their smartphone and typing in a one-time PIN, the shopper's mobile becomes interlinked in real time with a shopping bag on the window, showing a live view of its contents. Any product dropped into the window's shopping bag instantly appears on the mobile. The shopper can edit product details, save products for immediate or later purchase and share with friends through social media or email.

Shoppers can also play with a life-size digital model showcasing NEO's fashion range in a fun and engaging way. By touching hotspots on the window the shopper can make the mannequin show product details, interact with the product and make playful actions and movements.

The adidas Window\Shopping experience is now live at the NEO store at Breite Gasse 46, Nürnberg, Germany. The adidas Window\Shopping experience was developed in a co-operation between adidas and TBWA\Helsinki, part of the TBWA Worldwide network. The Window\Shopping (Wi\Sh) platform is a trademark and patent pending product from TBWA.
Contact
Client Relations

TheNewsMarket

clientrelations@thenewsmarket.com