22-FEB-2016

SOURCE: adidas
adidas Gamedayplus take extensive look at the ACE 16+ PURECONTROL with Koke, the F2 Freestylers and a trip to adidas HQ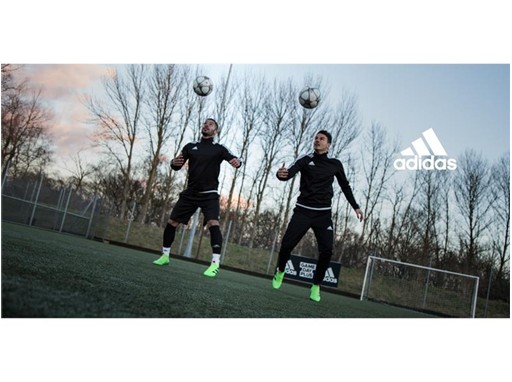 - Spanish midfielder shows off his accuracy and total control in new laceless boots -
- F2 Freestylers boss the pitch in guest presenting role -
- Exclusive behind-the-scenes footage inside adidas HQ -  
Herzogenaurach, Monday 22nd February – Since the launch of adidas ACE 16+ PURECONTROL last month, the world has been talking about the world's first high performance laceless boot. Today adidas Gamedayplus launched its latest episode with appearances from Spanish midfield star Koke, YouTube sensations the F2 Freestylers and a visit to adidas HQ to speak to one of the masterminds behind the product, Sam Handy.
The episode begins with guest presenters the F2 Freestylers demonstrating their now world-famous technique and boss skill wearing ACE 16+ PURECONTROL.
Next up, midfield boss Koke shows off his deadly accuracy with the ball competing in the "boss bowling" challenge – first with his left foot, then right, rabona and finally blind-folded – as well as telling adidas Gamedayplus the secret to total control.
The episode also features a chance to win tickets to the UEFA Champions League Final in Milan with adidas Bodycare.
adidas Gamedayplus round off the episode with a look inside adidas HQ, including the Future Lab, where media and influencers were recently invited to a one-off, behind-the-scenes look at the creation of ACE 16+ PURECONTROL. During that time, adidas Gamedayplus presenter Roman Kemp caught up with Sam Handy, Vice President of Design, adidas Football and the one of the masterminds behind the product, finding out everything there is to know about the game-changing ACE 16+ PURECONTROL and what it means for the brand.

Watch Gamedayplus at – https://youtu.be/75enhvRDU4s​
About adidas Gamedayplus:
-    New episodes of Gamedayplus will be released every UEFA Champions League match week this season
Subscribe to adidas football on Youtube to ensure you never miss an episode. To join the conversation, visit facebook.com/adidasfootball or follow @adidasfootball on twitter.