06-NOV-2013

SOURCE: adidas
adidas gears up for world cup with colourful samba boot collection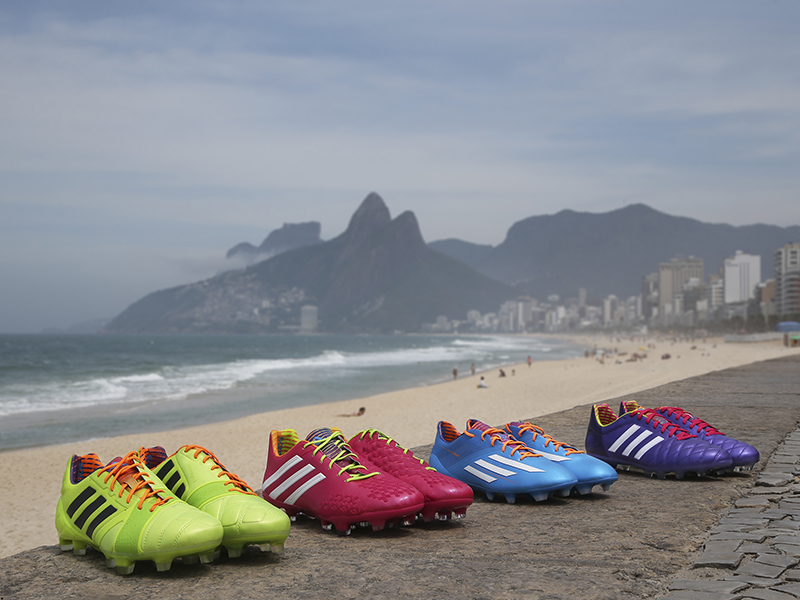 adidas today launched the
Samba Collection
, Brazilian inspired football boots aimed at celebrating the vibrancy and exuberance of the World Cup host nation. For the first time ever, as part of the
Samba Collection
adidas has released a new boot from each of its four boot ranges,
adizero™ f50, predator®, nitrocharge™
and
11pro
, with an array of new bright, exciting colourways. Each boot has been designed with its own distinct identity and cutting edge technology, inspiring the next generation of footballer.
The
Samba Collection
launch marks the start of the adidas
"All in or Nothing"
2014 FIFA World Cup Brazil™ campaign. The tournament is the world's largest event and the ultimate platform, where it will be
Game On or Game Over
for the World's best teams and federations. The full roster of adidas star players will be involved in the campaign from Leo Messi and Oscar to Dani Alves and Mesut Ozil.
nitrocharge™
nitrocharge™
, the energy-retaining football boot designed for the next generation of footballer as worn by Dani Alves and Ezequiel Lavezzi, comes in a new visually striking lime green colourway. As a boot designed for 'The Engine', the player who is always running, tackling and relentlessly powering his team, the Samba
nitrocharge™
encourages its wearer to go
Full on or be Gone
. With its unique and highly elastic
ENERGYSLING™
around the forefoot supporting sidecut and precision turn movements to sharpen reactions on the pitch, and
ENERGYPULSE™
spring technology providing high energy push-offs and long lasting energy return when sprinting, the
nitrocharge™
combines new technologies to innovate the way 'Engines' play the beautiful game.
adizero™ f50
The
adizero™ f50
, long sought after by the fastest players such as Leo Messi, Lucas Moura and Gareth Bale, empowers its players to
Fly or Die
with an electric sky blue colourway. The
adizero™ f50
is all about precision engineering with every aspect of the boot design based around making the wearer as fast as possible on the football field. With features such as
SPEEDTRAXION
, an all-new, high speed stud alignment for maximum acceleration and pinpoint changes of direction, and
SPEEDFOIL
, a revolutionary material that combines lightweight, softness and durability for a comfortable, yet locked down heel fit, the Samba
adizero™ f50
is a boot which ensures these world class players will be faster than ever before in Brazil.
predator® Lethal Zones
The vibrant pink colourway of the Samba
predator® Lethal Zones
favoured by the likes of Oscar, Mesut Ozil and Fernando Torres instructs its wearer to
Hunt or be Hunted
. Designed with five distinctive 'Lethal Zones' of technology to deliver outstanding ball control, touch, accuracy and power, the boot is made to master every aspect of performance.
11pro
With a luxury deep purple colourway, the Samba
11pro
worn by Philipp Lahm, Hernanes and Frank Lampard retains the classic attributes that allow players to
Make the Play or Make Way
. With its premium, ultra-soft and ultra-light Taurus leather providing excellent fit, performance, comfort and ball-feel allied to an all new outsole with comfort frame for better pressure distribution, as well as optimised stud placement for maximum grip and acceleration, the
11pro
remains the boot of choice for the complete footballer.
Antoine Hadjimanolis, Global Senior Product Manager, adidas Football said: "For
Samba Collection
, we took our inspiration from Brazil. The pack is colourful, energetic and full of character – just like Brazil! From the beaches of Bahia to the Carnival of Rio, our boots will use tones and palettes that you've never seen before on a football boot."
The
Samba Collection
launches today in conjunction with a Brazilian inspired video featuring key players who will wear the boots. The 90 second-long video features a brand new track,
"BOTA"
, from prominent act
Buraka Som Sistema
, who partnered with promising newcomer Brazilian MC
Karol Conka
(cult.cartel). Karol delivered the lyrics and appeared in the spot, adding local flavour. The band will be release the track as their next single and will be available to download from the adidas Football Soundcloud channel,
soundcloud.com/adidasfootball
from today.
The most exciting professional players in the world will wear the new adidas
Samba Collection
boots onfield from November 9th onwards, with the boots available to purchase from 14th November at adidas own-retail outlets as well as specialist stores worldwide. For further information please visit
adidas.com/football
or go to
facebook.com/adidasfootball
or
@adidasfootball
on twitter to join the conversation.