25-FEB-2014

SOURCE: adidas
adidas introduces the Japanese Football Association away jersey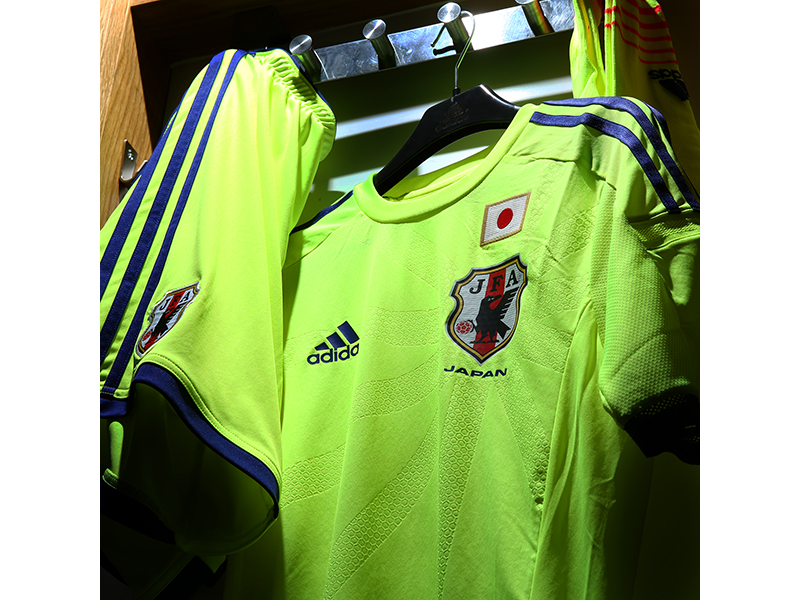 adidas and the Japan Football Association (JFA) are proud to release the new official away uniform for the Japan National Football Team, as the squad prepares to compete in the upcoming 2014 FIFA World Cup Brazil™.

The new official away kit features the colour yellow for the very first time, whilst leaving intact the key design concept of "ENJIN (i.e., the act of 'going into a huddle')" from the home Jersey. The decision to adopt the all-over execution in yellow is an expression of the wishes that the people of Brazil join the enthusiastic Japanese supporters to root for the Japan National Football Team.

In addition, this yellow colour, as well as the red colour seen on the single line signifying 'KESSOKU (bond, unity)'". On the back of the uniform, adidas has incorporated bright neon colours (fluorescent colours), which contribute to the players' greater presence on the pitch, with the familiar "Japan Blue" firmly implanted in the Three Stripes and on both sleeves.

On the left side of the chest, 11 lines spread out from the emblem as the central point. This expresses the way the players depart from the "ENJIN" to their respective positions on the pitch just before the match begins. The 11 lines symbolising the "ENJIN" are also found on the socks.

As in the previous version, Japan's national flag is proudly shown on the left chest of the new uniform; the flag effectively inherits the "DNA" of the Japan National Football Team's old uniforms, as it has been sewn with the thread newly spun from the fabric of the historic uniforms that were actually worn by the previous national teams. This guarantees that the pride and history of the past squads are carried over for the 2014 FIFA World Cup Brazil™.

The Japan National Football Team's away jersey features the "adizero la-ito, which uses ultra-light polyester material helping to achieve the staggering lightness of mere 90g (Size L).