31-OCT-2016

SOURCE: adidas
adidas Launches Limited Edition Barricade Inspired by Traditional Barber Shop Textures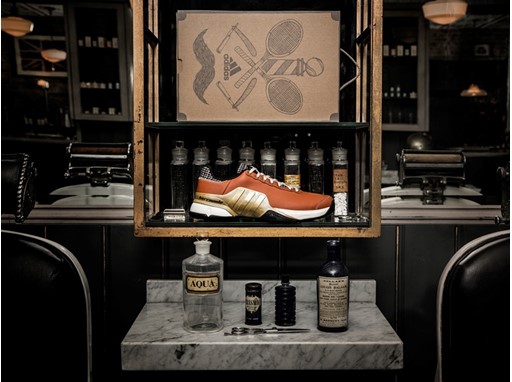 - High quality brown leather upper nods to the famous barber chair -
- Brass cage support reminiscent of iconic shop surroundings -
Herzogenaurach, Germany, 1st November 2016: adidas today launched the latest addition to the Barricade tennis range, the Barricade 2016 Mustachio. The limited edition shoe is inspired by the aesthetic of the iconic barber shop.

The Barricade 2016 Mustachio features high quality, full grain brown leather giving a premium and unique new finish to the traditional Barricade 2016 shoe. The leather is wrapped by a brass-finished chassis replicating the superior fixtures and fittings with a barber shop. The shoe is also detailed with the classic houndstooth pattern and includes an embossed logo on the heel – adding to the premium and hand-crafted finish.
The classic houndstooth pattern sits around the top of the shoe, with the logo embossed into the leather on the heel.
The limited edition Barricade 2016 Mustachio will be available online from 1
st
November at adidas.com.
Contact
Client Relations

TheNewsMarket

clientrelations@thenewsmarket.com