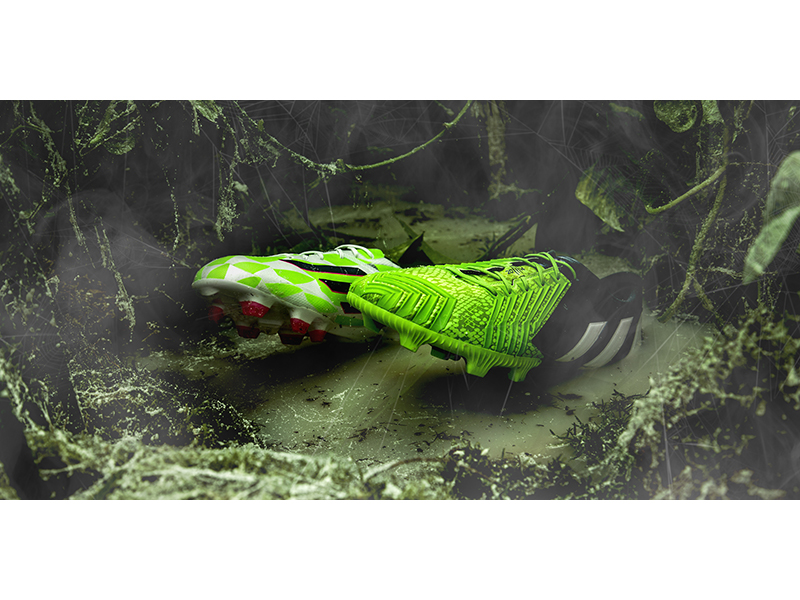 The Predator boot evolves in time for Halloween with a new skin to frighten defenders
adidas has unveiled a special edition Predator Instinct boot in time for Halloween as part of the 20th anniversary celebrations of the Predator. The brand new Predator Instinct Supernatural, launched alongside the adizero f50 Supernatural, aims to thrill players and fans alike with inspiring luminous colours, as the skin of the Predator boots adapt and evolve in order to be seen on the darkest of nights.
The new boots will be worn by all adidas Predator and f50 players from October 31st onwards. The boots will retain the lethal zone, control pad and pass pad technology of the Predator Instinct, as well as the next-generation lightweight skin for the f50 boots, all with an added Halloween twist aimed at giving the opposition a real fright.
To commemorate the 20th anniversary of the Predator, the Predator Instinct Supernatural boots are one of the 14 special edition Predator Instinct boots to be launched during 2014. The latest collection of boots follow the Crazylight Pack and Revenge Pack, a heritage set of three Predators based on the original designs of the 1994 Predator, the 1998 Accelerator and the 2002 Mania.
The Predator Instinct Supernatural and adizero f50 Supernatural boot will be available to buy at www.adidas.com from 31st October.
For further information please visit
adidas.com/football
or go to
facebook.com/adidasfootball
or
@adidasfootball
on twitter to join the conversation.