06-SEP-2016

SOURCE: adidas
adidas to Launch 'Sport Needs Creators' TV Spot During NFL Opener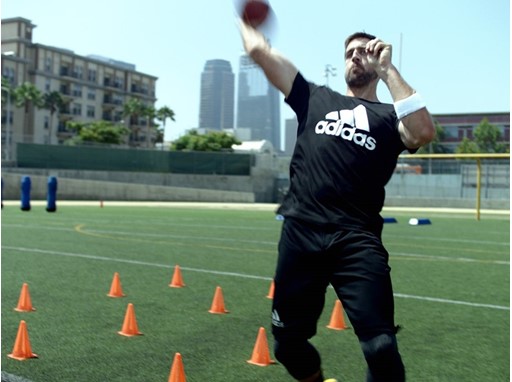 PORTLAND, Ore. – September 6, 2016 – adidas today revealed
Sport Needs Creators - adidas
​
the brand's latest TV campaign ahead of its on-air debut on September 8th, during the Carolina Panthers vs. Denver Broncos NFL season opener on NBC.
The new spot features a diverse roster of adidas athletes including Super Bowl 50 MVP Von Miller of the Denver Broncos, two-time NFL MVP Aaron Rodgers of the Green Bay Packers, 2015 National League Rookie of the Year Kris Bryant of the Chicago Cubs, 2015 FIFA FIFPro World XI Award winner Paul Pogba of Manchester United, four-time NBA All-Star James Harden of the Houston Rockets, rookie guard Moriah Jefferson of the San Antonio Stars, and top NBA Draft selections Brandon Ingram of the Los Angeles Lakers, Jaylen Brown of the Boston Celtics and Jamal Murray of the Denver Nuggets.
"Every snap of the ball, every swing of the bat, every shot on goal, every dribble down the court is a chance to create," said Ryan Morlan, adidas' VP of Brand Communications. "We want the world to know that sport needs creators. Sport needs athletes who don't just work hard, but athletes who use their imagination and creativity to take their game to the next level. Our latest brand statement (Sport Needs Creators) is a call to athletes everywhere who think and act beyond the norm of sport today."
The new film, titled Sport Needs Creators, showcases
#teamadidas
​ athletes challenging the status quo through creativity in sports and is a rallying cry for athletes to tap into their imagination and to embrace and utilize creativity in sports.
Sport Needs Creators is the latest chapter of the adidas SPORT 16 campaign that builds upon the belief that all athletes are Here to Create. The new spot continues the narrative and recent launches of
Creating Clutch
​ and
Creating New Speed
​, celebrating and inspiring creators in sports.