05-JUN-2014

SOURCE: adidas
adidas unveils adiPower pre-cooling concept for the 2014 FIFA World Cup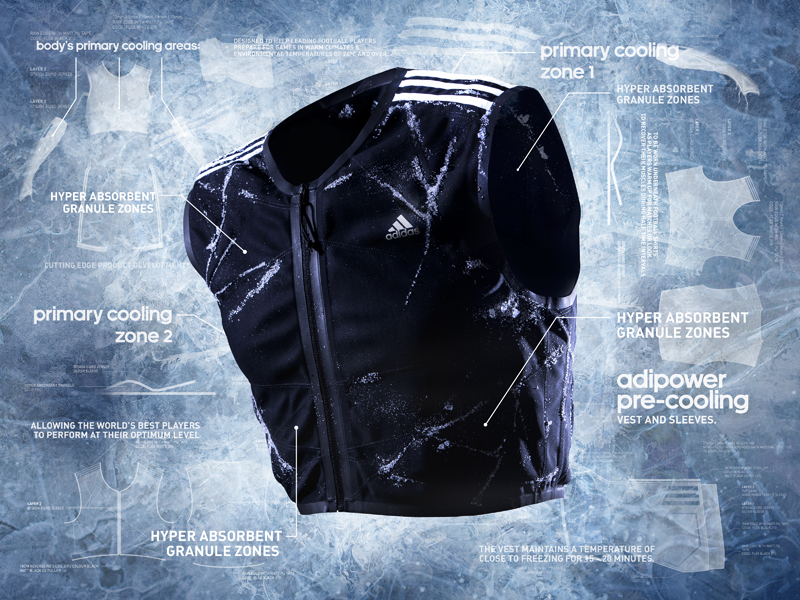 adidas today launched its new adiPower pre-cooling vest and sleeves ahead of the 2014 FIFA World Cup, which will be worn exclusively by players from nine adidas federations at the tournament including defending champion Spain, Germany, Argentina and Colombia.
Designed to help top soccer players prepare for games in warm climates -environmental temperatures of 24°C and over - by reducing body temperatures and delaying the onset of heat-induced fatigue, the adiPower pre-cooling vest and sleeves will be worn as players warm up for matches or during half time intervals.
The high-tech pre-cooling concept includes a number of hyper absorbent granule zones specifically located around the lower arms and upper back, which rigorous testing has revealed to be the body's primary cooling areas.
Designed so that there is no direct ice in contact with the skin, the garments are stored in a freezer to maintain a temperature of close to freezing for 15 - 20 minutes, allowing players a suitable cooling period whilst playing in Brazil.
Dr Maarten Hupperets, Senior Researcher at adidas said, "With some match temperatures in Brazil expected to be as warm as 30°c this summer, the adiPower pre-cooling concept will ensure body temperatures stay low and allow the world's best players to perform at their optimum level. Our cutting edge product development reinforces the position of adidas as the global leader of innovation in soccer and the technology of the adiPower pre-cooling vest and sleeves will help adidas players to succeed on the world's greatest soccer stage."
The pre-cooling garment has been in development for a number of years and has involved testing on many amateur and professional players, including those who play in Brazil. It is currently being worn by players at their pre-tournament training camps, with some of the teams expected to debut the vest at upcoming friendly games in the USA, with temperatures expected to be around 25°C.
Join the adidas soccer conversation at
www.facebook.com/adidassoccer
or on Twitter: @adidassoccer #allin or nothing.