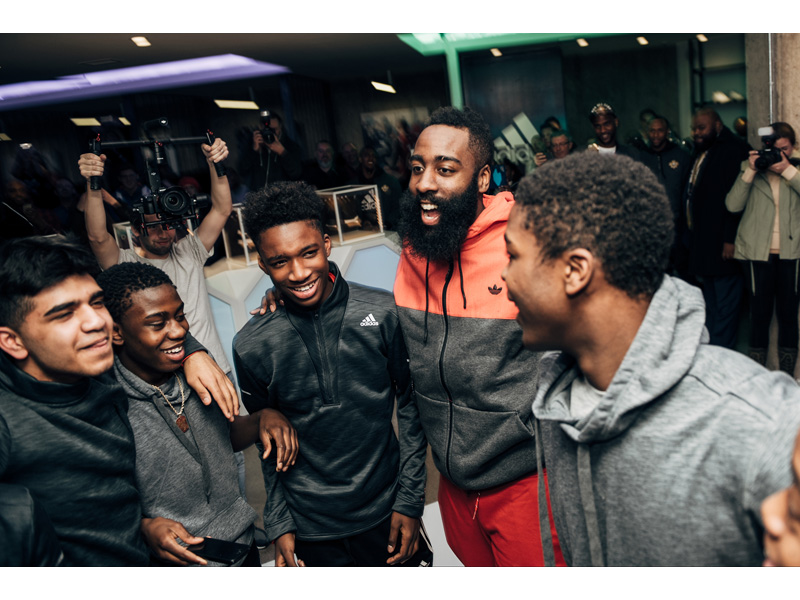 On the tip-off of NBA All-Star Weekend in Toronto, adidas partnered with four-time NBA All-Star James Harden of the Houston Rockets, two-time NBA All-Star Kyle Lowry of the Toronto Raptors and rising star Marcus Smart of the Boston Celtics for exclusive fan events at the adidas Store in Dundas Square and the adidas VIP Suite at The Vault. The festivities continued with Andrew Wiggins of the Minnesota Timberwolves unveiling a community give back at the star's hometown courts.

On Friday, February 12, James Harden gave basketball players from Bill Crothers Secondary School an all-access pass to the adidas VIP Suite for an intimate experience with where he joined the players for a photo shoot, one-on-one conversation and an exclusive revealing of unreleased kicks. The players will see Harden again when the Rockets play the Toronto Raptors on March 6.

adidas Basketball | Andrew Wiggins Creates for his Hometown

On Saturday, February 13, Andrew Wiggins welcomed hundreds of kids from the star's hometown City of Vaughan for a special basketball experience that unveiled a new look and multi-year investment at Dufferin Clark Community Centre. Andrew greeted fans, thanked them for their support and unveiled updated facilities that feature new hoops and a scoreboard, refurbished benches and equipment, a remodeled youth room and plenty of adidas gear.

The event also featured on-court competitions including free-throw, three-point and slam dunk contests. The special give back tipped-off a unique, multi-year partnership with Andrew and the Dufferin Clark Community Centre where adidas will supply footwear, uniforms and equipment for youth basketball leagues and a lasting impression for years to come.

Kyle Lowry met with fans at the adidas Flagship Store in Dundas Square Friday morning and on Saturday, rising star Marcus Smart of the Boston Celtics visited the adidas Store in Dundas Square for a special autograph signing and photo experience for fans.

Join the conversation @adidashoops on Twitter and Instagram.