11-JUL-2014

SOURCE: adidas
David Beckham to feature in adidas finale show at the 2014 FIFA World Cup Brazil™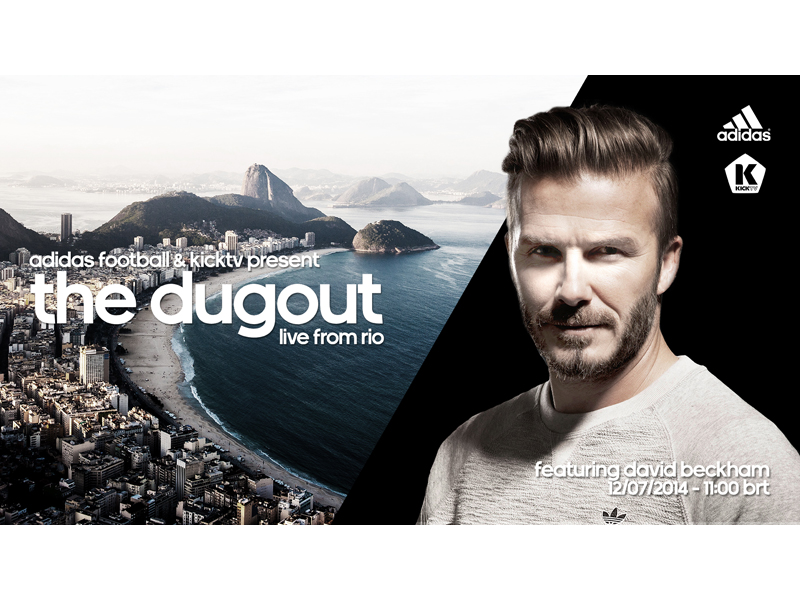 On the eve of the 2014 FIFA World Cup Brazil™ Final, adidas is inviting fans to join the finale show of its World Cup series – The Dugout, streamed on YouTube.
Taking place at 1100 (BRT) the final episode in the series of adidas Dugout shows in Rio will feature England legend and global icon David Beckham. The show will see Beckham answering questions live from the adidas studio, giving his thoughts on this year's tournament, and recounting his personal history with the adidas Predator football boot to mark the 20th anniversary of Predator.
To watch The Dugout live go to the
adidas YouTube page
from 1100 BRT today (12th July).
Hosted by KICKTV hosts Jimmy Conrad, Layla Anna-Lee and Hugh Wizzy, The Dugout will bring an audience of millions of football fans closer than ever before to adidas footballers and legends, providing debate, views and reactions to all the action in Brazil on and off the field. The series has been broadcast over the course of the tournament, with star appearances including Cafu, Fernando Hierro, Patrick Vieira and Kaka.
The final show will also see another episode of the adidas miCoach Smart Ball Power Challenge. The Smart Ball houses a sensor package which helps measure the speed, curve, trajectory and spin of the ball and the challenge will see Kaka attempt to beat Patrick Vieira's benchmark speed of 111kph. There will also be a report from the FIFA Interactive World Cup, where a new World Champion was crowned at the top of Sugarloaf Mountain last week.
The show airs on YouTube and adidas social channels at 1100 (BRT) ahead of the 2014 FIFA World Cup Brazil™ Final. To watch go to
www.youtube.com/watch?v=PNgG5wtBZdI
.
Teaser trailer is available here:
youtu.be/IdBU6vrSr08
Join the adidas football conversation at www.facebook.com/adidasfootball or on Twitter: @adidasfootball.