13-JUN-2013

SOURCE: adidas
New Element Voyager Running Shoe Leads Industry in Low-Waste Production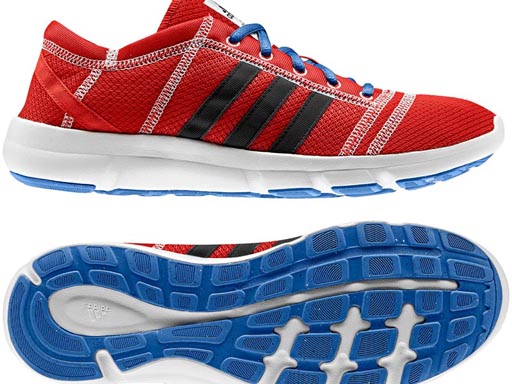 June 2013 - Herzogenaurach, Germany. Committed to doing more with less, adidas has revealed the latest step in its low-waste initiative, an effort to produce quality performance products with minimum waste. The initiative fuses sustainability and performance by creating intelligently engineered footwear and apparel products made with fewer parts, more recycled materials and efficient designs to maximize pattern efficiency and minimize material waste.
As part of the low-waste initiative adidas is launching the new Element Voyager. This shoe is a modern natural running shoe with a simplified design and breakthrough pattern efficiency. The adidas Element Voyager is made up of only 12 parts which is a decrease of 60% compared to traditional running shoe and over 45% less material.
100% of the Element Voyager is made of environmentally preferred materials, meaning all of the materials of the shoe include recycled content. The entire Element Voyager concept considers waste reduction from every angle even its packaging and shipping.
Everything you need, nothing you don´t
The adidas low-waste initiative has made significant advancements in apparel, with a full clothing range that includes a t-shirt, tank, tight, skirt and shorts designed with over 95% pattern efficiency, which translates into less than 5% material waste. This was achieved through using a square pattern, supplemented with stretchy inserts, as the basic form.
The Element Voyager (priced at €75) and apparel products will be available in multiple markets globally from June 2013.
The global low-waste initiative is part of the
adidas Better Place program
, a collaboration of people and processes determined to do better for the world, globally and locally. It includes internal collaborations to bring sustainable innovations to adidas products and external projects to help improve local communities via grassroots activities, framed by the power of sport.
For more information, please visit
www.adidas.com/goallin/betterplace
, and
http://www.adidas-group.com/en/sustainability/welcome.aspx
.