15-OCT-2013

SOURCE: adidas
Flamengo's New Third Kit Inspired by Famous Rio Landmarks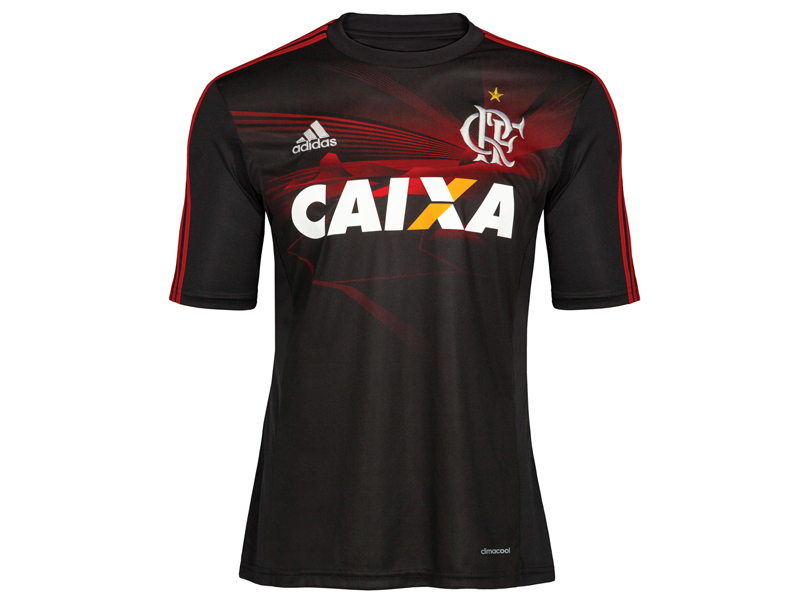 Today, Flamengo and adidas are proud to unveil the club's new third kit. The new jersey is black with three red shoulder stripes and features design inspiration relating to the iconic landmarks of Rio de Janeiro.

The design detail on the chest features images inspired by places like Sugarloaf Mountain, Corcovado and the Rodrigo de Freitas Lagoon. The "Uma vez Flamengo, sempre Flamengo – 1895" (Once Flamengo, always Flamengo) slogan is still on the back of the jersey.

For adidas, the club's relationship with the city is in Flamengo's DNA and was the inspiration for the design of the new Rio de Janeiro inspired jersey. "Few clubs in the world have such a strong bond with their home city as Flamengo has with Rio de Janeiro. That's why we believe that this new jersey will delight Flamengo fans," states Daniel Schmid, director of adidas' soccer division.

The design uses adidas' ClimaCool® technology, which takes into account where and how the body produces the most heat and perspiration and uses more breathable fabrics in these regions. As a result, it allows the athlete to maintain an ideal body temperature.

"The third uniform is very important because it always conveys Flamengo pride. Traditionally, Flamengo has had historic third uniforms. Given adidas' quality and experience, I'm certain this uniform will also become part of the club's history and bring us many victories," states Fred Luz, marketing director for CRF.

Flamengo's new third kit will take the field in tomorrow's game, October 16th, against Bahia and will be available for sale from October 21st in selected adidas retail outlets, associated stockists and via www.adidas.com/football. Join the adidas football conversation at www.facebook.com/adidasfootball or on Twitter: @adidasfootball.
Contact
Client Relations

TheNewsMarket

clientrelations@thenewsmarket.com