12-JUN-2014

SOURCE: adidas
Football legends Patrick Vieira and Fernando Hierro predict their 2014 FIFA World Cup Brazil™ Winners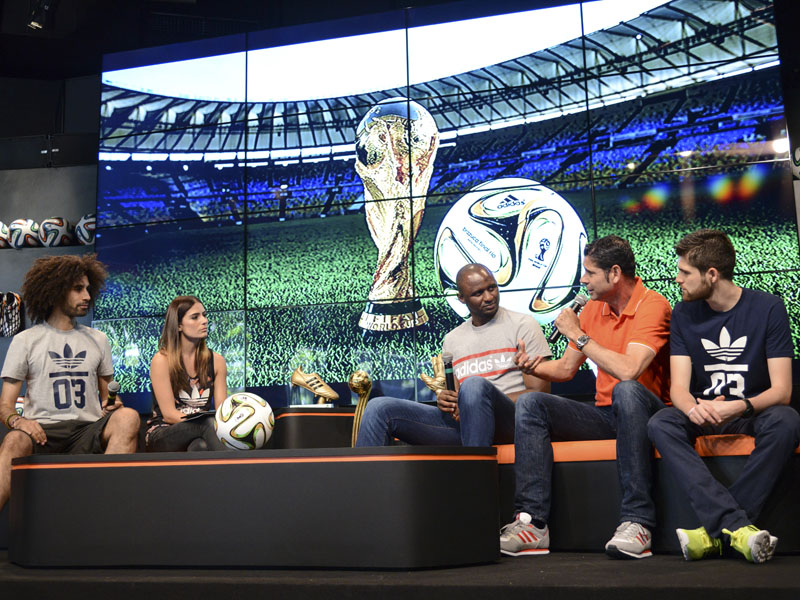 Former France captain and footballing heavyweight Patrick Vieira and Spanish hero Fernando Hierro talk about their predictions for the 2014 FIFA World Cup BrazilTM on 'The Dugout', a new initiative set up by adidas designed for football fans from around the world.
Speaking on the show, Vieira said he believes the host nation is ready to go all the way to the 2014 FIFA World Cup Brazil™, as long as the squad can deal with the expectations of a nation.
The former France captain said, "As host, there is massive expectation and people believe in the team. The country stops for one month and everybody is looking at you. You have to respond, play well and you have to win games. I hope the Brazilians start well and win their first game, because a win will start to build the momentum for the fans to get behind the team. The Final will be Brazil v Argentina or Spain. I'll be in trouble for not saying France!"
Vieira and Hierro were not the only distinguished guests. Also featuring in the show were the some of the most sought after footballing accolades in world football; the Golden Gloves for the tournaments best goalkeeper, the Golden Boot for the tournament top scorer and the Golden Ball, for the tournament's best player.
The innovative shows bring an audience of millions of football fans closer than ever before to adidas star footballers and legends, providing debate, views and reactions to all the action in Brazil on and off the field. The series of shows will be broadcast over the course of the tournament, with a final show to take place on the eve of the 2014 FIFA World Cup™ Final, 12 July.
The next show, which airs live on 13 June 2014 at 1100 (BRT) on YouTube and adidas social channels, will feature Brazilian legend and former World Cup winner Cafu in Rio, as well as Jamaican sprinters Warren Weir and Yohan Blake from New York. To watch go to
https://www.youtube.com/watch?v=Vj-gImgZ39Q
.
Make your choice – to ensure that you don´t miss a beat of what adidas is doing at the FIFA 2014 World Cup please subscribe to GLOBAL - FIFA WORLD CUP 2014 here