28-AUG-2015

SOURCE: adidas
Jacob Corneliusen Named Global Champion At #BETHEDIFFERENCE World Final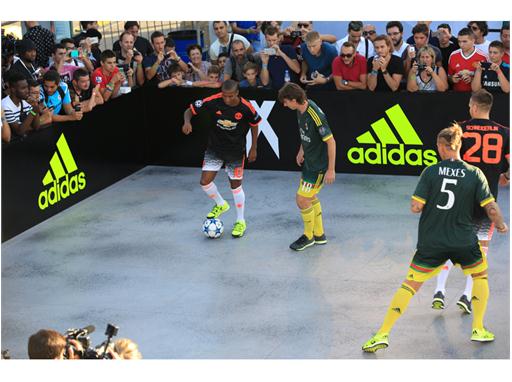 Marseille, Thursday 27th August
– Stars of Manchester United, Real Madrid, FC Bayern Munich, Chelsea FC, Juventus and AC Milan were in attendance as Jacob Corneliusen was named the winner of the adidas #BETHEDIFFERENCE World Final, a tournament that has crossed the world in search of the most skilled playmakers and gamechangers.
Corneliusen travelled to Marseille after winning his local event in Denmark earlier in August.
The event took place on the night of the UEFA Champions League draw, with the players in attendance watching the draw closely. Media were able to get their reactions to the draw in real-time, on an evening that saw FC Bayern Munich drawn against Arsenal, Manchester United against PSV Eindhoven and Chelsea FC drawn against FC Porto.
Players from the clubs at the event were Morgan Schneiderlin and Ashley Young (both Manchester United), Nacho and Alvaro Arbeloa (both Real Madrid), Javi Martinez and Julian Green (both FC Bayern Munich), Victor Moses and Cesar Azpilicueta (both Chelsea), Guido Vadala and Francesco Cassata (both Juventus) and Riccardo Montolivo and Philippe Mexes (both AC Milan).
Before the final of the tightly contested showdown in Marseille, the players from the various clubs took to the pitch in a series of exhibition games that saw Manchester United face up to AC Milan and Juventus and Real Madrid go head to head in front of 700 football fans.
Those in attendance were also among the first to see the clubs' new 'spark in the night' third kits at the event, with the designs incorporating unique references to the heritage, fans and cities of these great clubs. The event also showcased the new Finale 15 UEFA Champions League Official Match Ball from adidas, to be used in the group stages of this year's tournament.
To see exclusive content from the #BETHEDIFFERENCE World Final event, visit:
-
facebook.com/adidasfootball
- @adidasfootball #BETHEDIFFERENCE on twitter and Instagram
- adidasfootball on SnapChat
-
www.adidas.com/bethedifference
Contact
Client Relations

TheNewsMarket

clientrelations@thenewsmarket.com