26-JUN-2014

SOURCE: adidas
Rafinha to star in latest adidas show at the 2014 FIFA World Cup Brazil™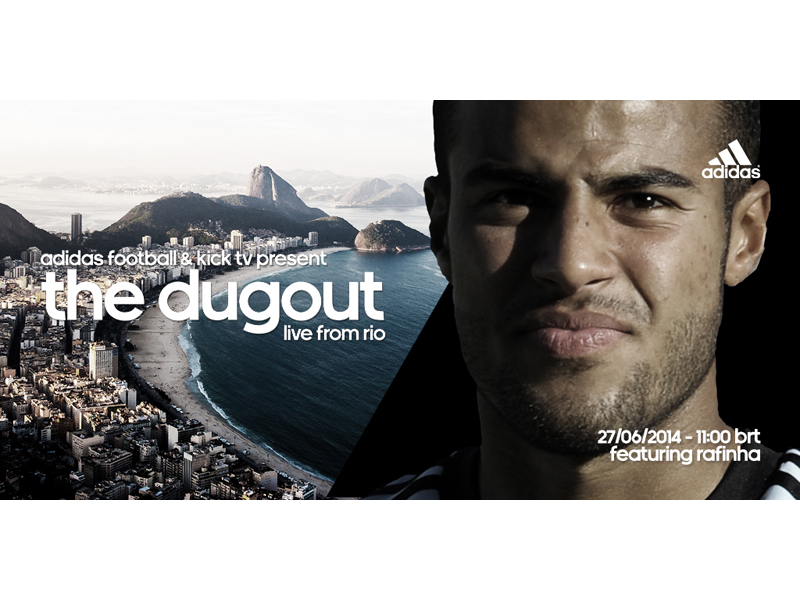 In the build-up to the knockout stages of the 2014 FIFA World Cup BrazilTM, adidas is inviting you to join its latest World Cup show – The Dugout, streamed on YouTube.
Taking place at 1100 (BRT) on Friday 27th June at the Brazil Clube Regatas Flamengo, Gavea, the third in a series of adidas Dugout shows in Rio will feature Brazilian starlet Rafa Alcântara, more commonly known as Rafinha. In addition to Rafinha, the show will also see another episode of the adidas miCoach Smart Ball Power Challenge. The Smart Ball houses a sensor package which helps measure the speed, curve, trajectory and spin of the ball and the challenge will see World Cup legends Carlos Valderrama & Cafu, and leading Colombian women's footballer Nicole Regnier compete to beat Patrick Vieira's benchmark speed of 111kph.
To watch The Dugout go to the
adidas YouTube page
from 1100 BRT today (27th June).
Hosted by KICKTV hosts Layla Anna-Lee and Hugh Wizzy, The Dugout will bring an audience of millions of football fans closer than ever before to adidas footballers and legends, providing debate, views and reactions to all the action in Brazil on and off the field. The series of six shows will be broadcast over the course of the tournament, with a final show to take place on the eve of the 2014 FIFA World Cup™ Final, 12 July.
The show airs on YouTube and adidas social channels at 1100 (BRT) ahead of the tournament's second round knockout stages. To watch go to
https://www.youtube.com/watch?v=16CpPZ206Bc
Join the adidas football conversation at
www.facebook.com/adidasfootball
or on Twitter: @adidasfootball.
Contact
Client Relations

TheNewsMarket

clientrelations@thenewsmarket.com