05-MAR-2013

SOURCE: adidas
adidas is ready to unite all originals - Introducing new 2013 brand campaign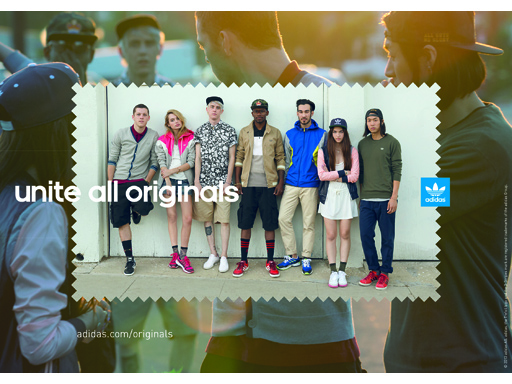 On March 5th, 2013, adidas Originals launches its new 2013 global campaign "Unite All Originals". At the center of the launch is the adidas collider hosted at
http://www.adidas.com/unite
, an online application letting people dive into a world of original content, where international artists from various disciplines collide to create something truly unexpected and unique. In addition to that "Unite All Originals" debuts with a 90-second hero film, created in collaboration with DJ/producer A-Trak and director & visual artist SoMe.
"The adidas collider is the perfect execution to bring "Unite All Originals" to life", comments Hermann Deininger, CMO of the adidas brand; "It is an innovative way of navigating content across the web, showcasing many different types of originality; from music producers to designers and digital artists to sculptors. The adidas collider is the next step in how we will approach our consumer digitally bringing him or her to the forefront of culture and showcasing how adidas Originals brings people together to create new forms of originality."
"Unite All Originals" is a digitally-lead, global initiative that will be active across advertising, PR, retail and online channels. March 5th marks the worldwide launch of the immersive digital experience, with unique content pieces showcasing creative collisions of select artists from different disciplines rolling out regularly. Select markets will also run TV advertising. The hero film, directed and visually treated by French director SoMe, shows taste-making DJ/producer A-Trak reworking his single "Landline" with ambient sounds from the footage to create an exclusive, unique new song.
Contact
Client Relations

TheNewsMarket

clientrelations@thenewsmarket.com