25-MAY-2017

SOURCE: Astrid Lindgren Memorial Award
Spotlight on Wolf Erlbruch's Week in Sweden – 2017 Astrid Lindgren Memorial Award Laureate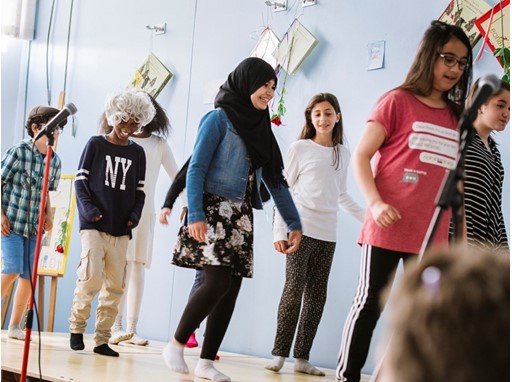 Wolf Erlbruch, the 2017 Astrid Lindgren Memorial Award laureate, is in Sweden to receive the prestigious children's literature award and to meet with fans and journalists.
 
Highlights of the 2017 laureate's week include a public lecture and presentation at Kulturhuset Stadsteatern on 23 May – where Erlbruch met his fans and showed some of his earliest illustrations, and the visit to the Hjulsta Elementary School on 24 May – where he met some very enthusiastic and curious students and teachers. The group had a discussion about his books and watched some wonderful ALMA inspired entertainment attended by 150 primary school children.
 
The Award Week ends with the Award Ceremony, presented by H.R.H. Crown Princess Victoria of Sweden, on 29 May.
 
The award will be presented by H.R.H. Crown Princess Victoria of Sweden and the ceremony will be attended by many high-profile individuals. Alice Bah Kuhnke, Swedish Minister for Culture and Democracy, will be giving a speech in honor of Erlbruch. The compere for the evening will be well-known journalist and literary critic Mrs. Yukiko Duke. There will be artist performances and presentations of Erlbruch's work. The prize diploma is designed by Swedish illustrator Marcus Gunnar Pettersson.
 
Wolf Erlbruch, born in 1948, has written some ten books of his own and illustrated nearly fifty titles by other authors. He is best known for his illustrations of The Story of the Little Mole Who Knew It Was None of His Business (1994), which became a great success around the world.
For accreditations, interview requests and information, please contact:

+46 (0)76-5401017
Or 
TheNewsMarket Media Team

media.relations@thenewsmarket.com
​
Tel: +44 (0) 20 7612 3991 
Images and videos

Press images and video content in broadcast quality from the award ceremony will be available at
www.thenewsmarket.com/ALMA
​ during the evening from 18:00 CEST. 
### 
The Astrid Lindgren Memorial Award (ALMA) is the world's largest award for children's and young adult literature. The award, which amounts to SEK 5 million, is given annually to a single laureate or to several. Authors, illustrators, oral storytellers and reading promoters are eligible. The award is designed to promote interest in children's and young adult literature. The UN convention of rights of the child is the foundation of our work. An expert jury selects the laureate(s) from candidates nominated by institutions and organisations all over the world. The Astrid Lindgren Memorial Award was founded by the Swedish government in 2002 and is administrated by the Swedish Arts Council.