16-MAY-2017

Astana, Kazakhstan

SOURCE: Avantgarde
Rmn-GP presents Peter Kogler – Avantgarde with Robotic Art at the EXPO 2017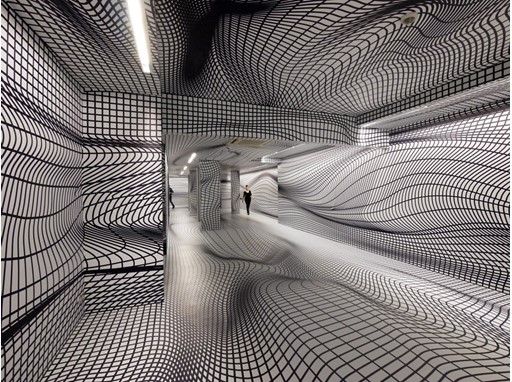 Peter Kogler is regarded as a pioneer of Robotic Art. A new large-scale spatial work of the Austrian artist is part of the ARTISTS & ROBOTS exhibition on display in the art pavilion at the Expo 2017 from 10 June to 10 September 2017 in the capital of Kazakhstan. The first exhaustive show of this art genre with internationally influential artists is curated by the Parisian Museum Réunion des musées nationaux – Grand Palais (Rmn-GP). National company Astana EXPO-2017 commissioned the international creative agency Avantgarde with execution and overall coordination.
A success on the international art market, the artist has focused on computer-generated drawing programs since the beginning of the 1980s. Twice shown at the Documenta, he creates impressive dynamic installations in which figures and space interact to unlock new perceptions. Aside from spatial perspectives, recurrent motifs in his works include ants, rats, tubes and the human brain. Peter Kogler lives and works in Vienna.
Wallpaper 2017 by Peter Kogler for ARTISTS & ROBOTS
Peter Kogler has created an exclusive artwork with a computer-generated labyrinth pattern for the EXPO art pavilion. Printed on sheets of paper the repetitive design completely covers the exhibition room from floor to ceiling. The pattern retracts, expands and twists the various planes so that the viewer's perception is completed confused. The optical illusion evokes an electric vertiginous feeling of disorientation. It changes the architecture's structural characteristics as they appear to vibrate or in some instances, disappear. Kogler's work is both pictorial art and architecture, surface and content. Wall Paper 2017 is not only typical of the Austrian artist's style which he consistently develops, but also a pointed statement on the manipulative, hypnotic qualities of modern highly sophisticated technologies.
Peter Kogler will be present at the opening of the EXPO art pavilion in Astana on 10 June 2017.