23-MAY-2017

Astana, Kazakhstan

SOURCE: Avantgarde
Rmn-GP presents Quayola: Avantgarde with Robotic Art at the EXPO 2017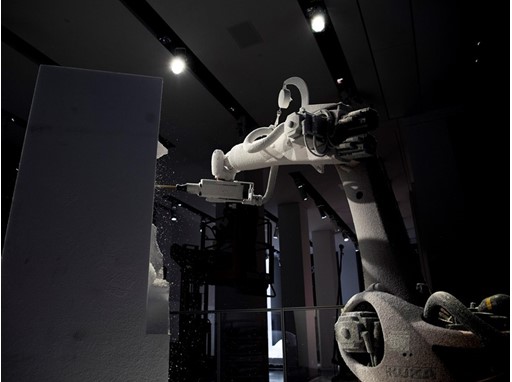 (Astana/Munich, 23 May 2017) Visual artist Quayola employs digital media to create a new take on modern art in the Renaissance and Baroque tradition. His Sculpture Factory with deconstructions of Michelangelo's classical sculptures are on show at the ARTISTS & ROBOTS exhibition from 10 June to 10 September 2017 in the art pavilion at the Expo 2017 in the capital of Kazakhstan. The first exhaustive show of this art genre with internationally influential artists is curated by the Parisian Museum Réunion des musées nationaux – Grand Palais (Rmn-GP). National company Astana EXPO-2017 commissioned the international creative agency Avantgarde with execution and overall coordination.
His origins cannot be denied. Internationally fêted, Davide Quagliola, who calls himself Quayola, grew up in Rome, literally surrounded by classical works of art. They are part of his artistic DNA. Quayola expresses his deep respect for the great masters of art history in his current engagement with advanced technology. He digitises paintings, frescoes and sculptures, from Botticelli and Rubens to Michelangelo. Using his own algorithms he manipulates the digital version, abstracting and recomposing it, sometimes beyond all recognition. The artist, who has been exhibited at the Venice Biennale and major world museums, lives and works in London.
Sculpture Factory at the ARTISTS & ROBOTS
Quayola's work in the EXPO art pavilion is a homage to one of the most famous artists of all time. The artist engages with Michelangelo's unfinished Prigioni (Prisoners) sculpture group and interprets it by employing digital manipulations in a futuristic design language. In a three-week live performance from the start of the exhibition an industrial robot will fashion larger-than-life white 3D sculptures out of rigid polystyrene foam blocks. The sculptural products will be documented and on show in a video installation until the end of the EXPO.
Quayola will be present at the opening of the EXPO art pavilion in Astana on 10 June 2017.
Contact
Client Relations

TheNewsMarket

clientrelations@thenewsmarket.com