01-JUN-2017

Astana, Kazakhstan

SOURCE: Avantgarde
Rmn-GP presents STELARC - Avantgarde with Robotic Art at the EXPO 2017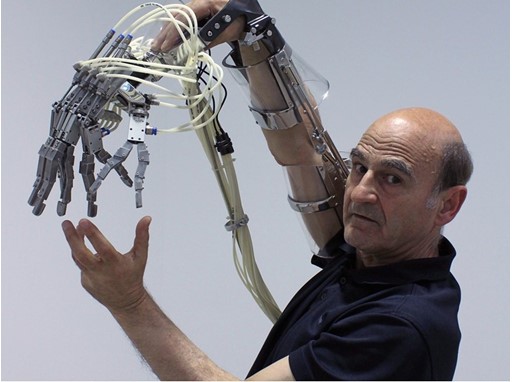 (Astana/Munich, 01 June 2017) Performance and multimedia artist Stelarc adopts an extreme artistic approach – he propagates the evolution of the human body through artificial intelligence and new technologies. His works link Robotic Art with virtual reality and prosthetics to fascinating effect. He demonstrates how human motor skills can develop in the ARTISTS & ROBOTS exhibition with his 'Third Hand' which, on the surface, is an artificial limb controlled by muscle pulses. The exhibition is on show from 10 June to 10 September 2017 in the art pavilion at the Expo 2017 in the capital of Kazakhstan. The first exhaustive show of this art genre with internationally influential artists is curated by the Parisian Museum Réunion des musées nationaux – Grand Palais (Rmn-GP). National company Astana EXPO-2017 commissioned the international creative agency Avantgarde with execution and overall coordination.


For more than 30 years the artist Stelarc, who lives in Australia, has staged spectacular performances, quite literally exerting all his physical powers. Born in Cyprus, the artist whose real name is Stelios Arcadiou, pursues his art to the limits of his physical powers. He consistently follows his vision of the development of the human body into a cyborg – a hybrid of man and machine. Stelarc is prize winner of the Ars Electronica in Linz, Austria (2010), and holds an honorary chair at Carnegie Mellon University of Art and Robotics in Pittsburgh, USA.


'The Third Hand' at the ARTISTS & ROBOTS

Technology as a means of enhancing physical performance – in Stelarc's view the artificial hand is not a substitute for a missing or poorly functioning body part. Instead, it improves body functions and acts in complete independence. It is controlled by pulses from muscles, in the leg, for instance. Yet what happens when you only retain control over the 'Third Hand' and the rest of your body functions are remotely controlled? Can human personality be determined by interaction alone? These are questions that the artist has addressed since developing the robot hand. First presented in 1980, Stelarc has since used it in internationally acclaimed performances, revisiting the subject each time from a different angle and approach. Stelarc will be present at the opening of the EXPO art pavilion in Astana on 10 June 2017.


About Avantgarde

Avantgarde is an international creative agency, founded in Munich in 1985. According to its claim "Creating Fans" over 500 employees in ten international offices develop integrated brand experiences that create excitement and spark conversations around the world. Apart from its headquarters in Munich, the agency operates offices in Berlin, Dresden and Cologne, as well as Dubai, London, Sao Paulo, Shanghai, Vienna and Zurich#Avantgarde / CREATING FANS


Visit avantgarde.de​​ for more information.
Contact
Client Relations

TheNewsMarket

clientrelations@thenewsmarket.com