15-APR-2016

SOURCE: CNH Industrial
CNH Industrial Annual General Meeting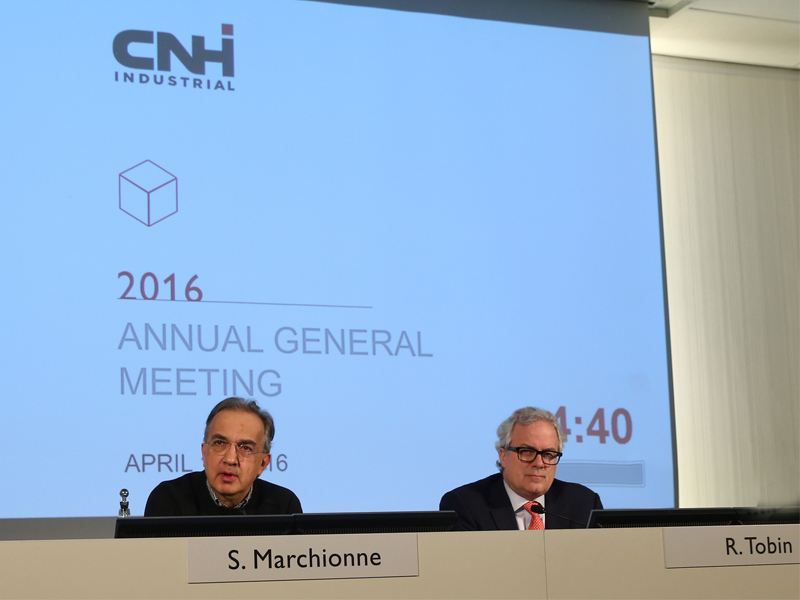 CNH Industrial N.V. (NYSE: CNHI / MI: CNHI) shareholders at the annual general meeting ("AGM"), held today in Schiphol-Rijk, the Netherlands, approved the 2015 EU Annual Report (including the Company's 2015 statutory financial statements) and a dividend of €0.13 per common share, equivalent to a total distribution of approximately €177 million.
Sergio Marchionne and Richard J. Tobin were re-elected as executive directors and Mina Gerowin, Léo W. Houle, Peter Kalantzis, John Lanaway, Guido Tabellini, Jacqueline Tammenoms Bakker and Jacques Theurillat were re-elected as non-executive directors. Additionally, Suzanne Heywood and Silke Scheiber were newly elected as non-executive directors. As previously announced, John Elkann and Maria Patrizia Grieco did not stand for re-election at today's AGM. Chairman Sergio Marchionne thanked Mr. Elkann and Ms. Grieco at the AGM for their substantial contributions and valuable service to the Company and all of its stakeholders.
Shareholders also granted the Board the authority to repurchase up to a maximum of 10% of the Company's issued common shares on April 15, 2016. The authorization is an instrument available to the Board of Directors, but places no obligation on the Company to repurchase its own shares. Under the authorization, which is valid for a period of 18 months from the date of the AGM, the Board may repurchase the Company's common shares in compliance with applicable regulations at a price not to exceed 10% of the market price reported on the stock exchange through which the repurchase(s) is/are made on the New York Stock Exchange (NYSE) and/or Mercato Telematico Azionario (MTA).
Finally, shareholders also granted the Board the authority to reduce the issued share capital of The Company by cancelling up to 80 million special voting shares held in treasury.Full details of the resolutions approved today and the executive directors' speeches are available on the Company's website (www.cnhindustrial.com).
Contact
Client Relations

TheNewsMarket

clientrelations@thenewsmarket.com