14-JAN-2014

SOURCE: CNH Industrial
Dakar 2014: After Special 8 to Calama Gerard de Rooy Maintains Lead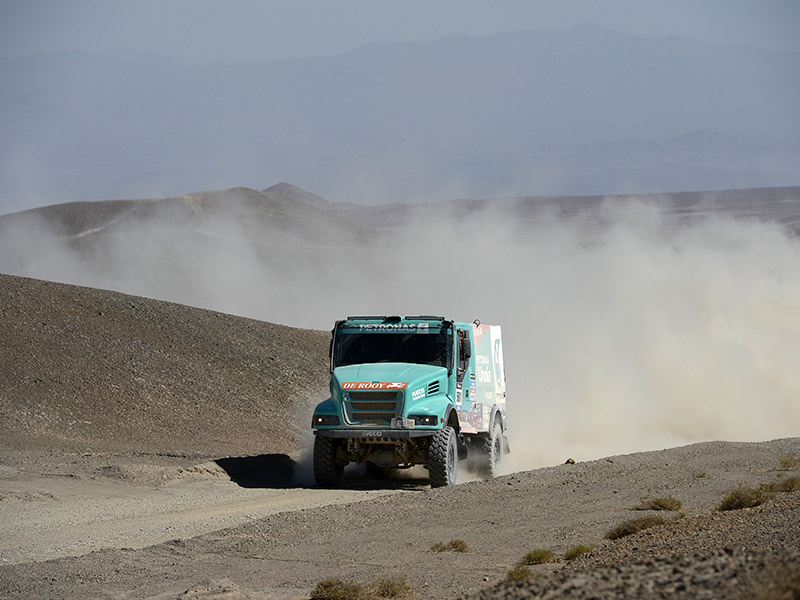 The first Special in Chile was in many respects similar to the previous one in Argentina. Gerard de Rooy drove in his Iveco Powerstar an average speed of more than 101 kilometers per hour. Sometimes reaching maximum speeds of 150 km/hr.

During the stage, Kamaz drivers Karginov and Sotnikov played the tactical game. The Iveco Powerstar was between two KAMAZ trucks and overtaking was almost impossible. Sotnikov drove fast but not full throttle, followed by Gerard de Rooij. Meanwhile Karginov was therefore able to close the gap. De Rooy was very able to control the situation, despite being forced between Kamaz vehicles and not having so much space for maneuver.

At the finish line, Karginov was the winner, gaining time on Gerard. He clocked a time of 2:53:32, followed by Gerard 5:15 minutes back. Sotnikov was third losing 6:55 minutes. Good performances also for the other Iveco drivers: Hans Stacey finished in ninth place with a gap of 15:17 minutes. The quick service Iveco trucks, loaded with spare parts, did very well. Jo Adua finished in 11th place, followed by Pep Vila in a fine 13th place.

In the overall standings there are minimal changes. De Rooy maintains his leading position in his Iveco Powerstar, 32:35 minutes in front of stage winner Karginov. Nikolaev and Sotnikov also kepttheir positions; only Loprais passed Hans Stacey and is 5th now, 6:55 minutes ahead of the Iveco driver, who is 6th place in the overall standings. Pep Vila follows in 7th place and Jo Adua holds the12th position.


Contact
Client Relations

TheNewsMarket

clientrelations@thenewsmarket.com