13-JAN-2014

SOURCE: CNH Industrial
Dakar 2014: Gerard de Rooy Remains at Top of the Rankings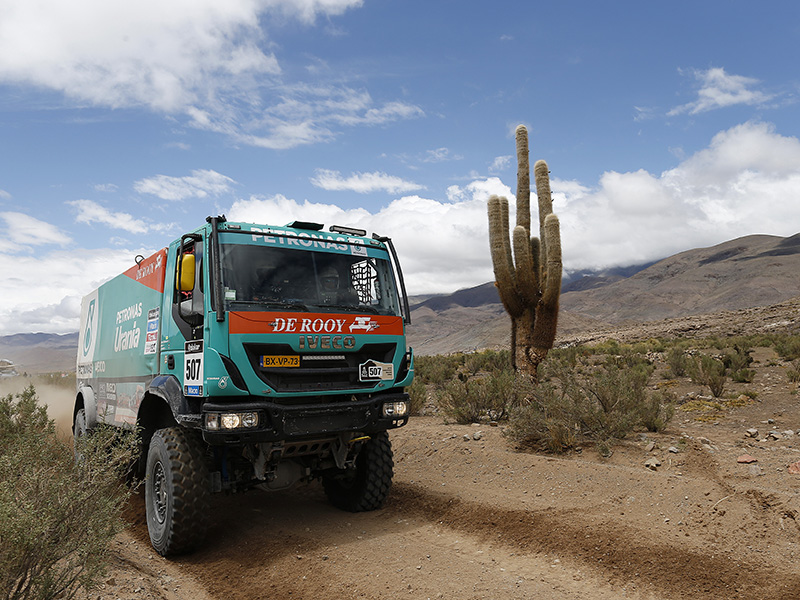 Gerard de Rooy continues his fight towards the podium with his Iveco Powerstar, strengthening his advantage by placing third in the seventh stage. Fellow teammate Hans Stacey finished eighth and thereby maintains his place in the overall standings.

Nikolaev (Kamaz), winner the Dakar 2013, took off aggressively from the start and took the lead. But Teammate Sotnikov and De Rooy were some 30 seconds behind him. In the second half, he took De Rooy managed to reduce the distance and place third. Hans Stacey and his Iveco Trakker finished in 8th place with a 15 minute gap behind the stage leader. The two other Iveco drivers, Vila and Adua placed 15th and 16th respectively in their Iveco Trakkers.

In the overall standings, Gerard de Rooy strengthened his leading position with the Iveco Powerstar with over 37 minutes ahead of Kamaz driver Karginov and over an hour ahead of Kamaz driver Nikolaev who follows in third place. Hans Stacey and his Iveco Trakker are in fifth in the overall standings, followed by Ales Loprais (Tatra) who trails him by 22 seconds.

Iveco teammate Pep Vila is in the top ten, in seventh, but has lost time, by almost half an hour to Stacey and Loprais. With Jo Adua in 12th, all four Iveco trucks hold strong standings at the top of the rankings.

After having faced the great heights of the Andes, the competitors have now left Argentina. The eighth stage runs from Salta to Calama and features a total length of 824 kilometres. The first part of the connection will begin very early. The first day on Chilean soil will be characterised by a 302 kilometre Special on hard and rocky terrain. The trucks will once again have to begin the Special behind the cars, which means that overtaking attempts will be difficult to make.


Contact
Client Relations

TheNewsMarket

clientrelations@thenewsmarket.com