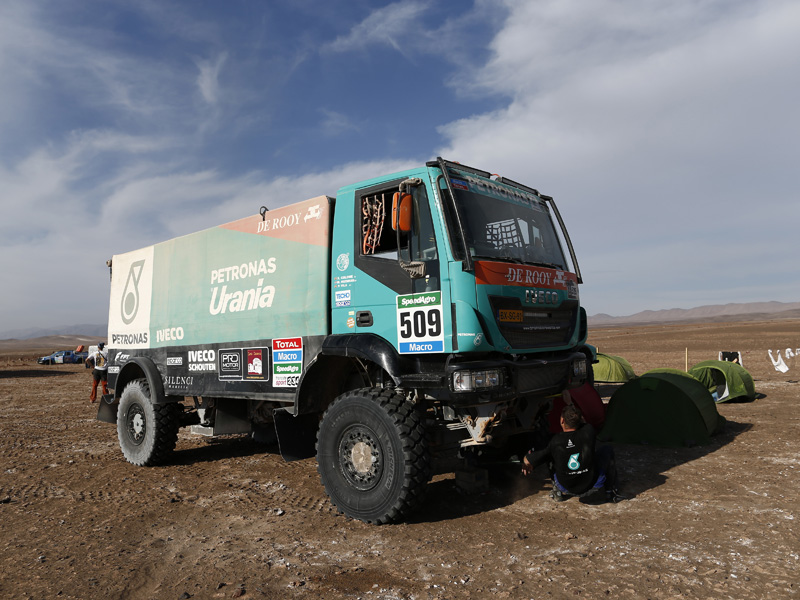 During stage 11, Iveco experienced its best day in the competition with first and second places for its Powerstar trucks driven by Hans Stacey and Gerard de Rooy. Stage 11, took place between the cities of Salta and Termas de Río Hondo in northwestern Argentina. It consisted of 194 kilometres for the trucks which were mainly on solid land, but difficult nonetheless. There were many muddy sections on a very fast road.

Ales Loprais (MAN) and Gerard de Rooy's Iveco Powerstar were tied at the first waypoint (WP), but other than that instance, Iveco was in the lead for the rest of the stage. Hans Stacey moved into first place after WP2, where he already had a 12s lead on his colleague Gerard de Rooy and a nearly half a minute lead over the rest of the competitors.

After a 2h08m11s competition, Stacey and De Rooy had a 1m56s lead on Russian Eduard Nikolaev (Kamaz). The stage did not generate time differences as great as other mountainous sections where navigation was more difficult.

Hans Stacey's and Gerard de Rooy's Iveco Powerstars, with their Cursor 13/Euro 6 12.9 litre and 900 horsepower engines, were the team's magic weapons, allowing the drivers to reach the top two spots on the podium in Stage 11 and consolidate their position within the overall top ten. The maximum torque of 3800 Nm at 1,100 rpm gave them great traction on terrain where some of their rivals lost time, making it key to winning the second special stage of this 2015 Dakar.

Pep Vila, with the third Iveco truck—a Trakker Evolution II—arrived in 13th place yesterday, 7m49s after his teammates. He is also 13th in the overall classification. The expert Spaniard driver would have been two positions ahead had it not been for Tuesday's 40m penalty for not crossing a WP.