07-JAN-2014

SOURCE: CNH Industrial
Gerard de Rooy Wins the Second Dakar Special with the Iveco Powerstar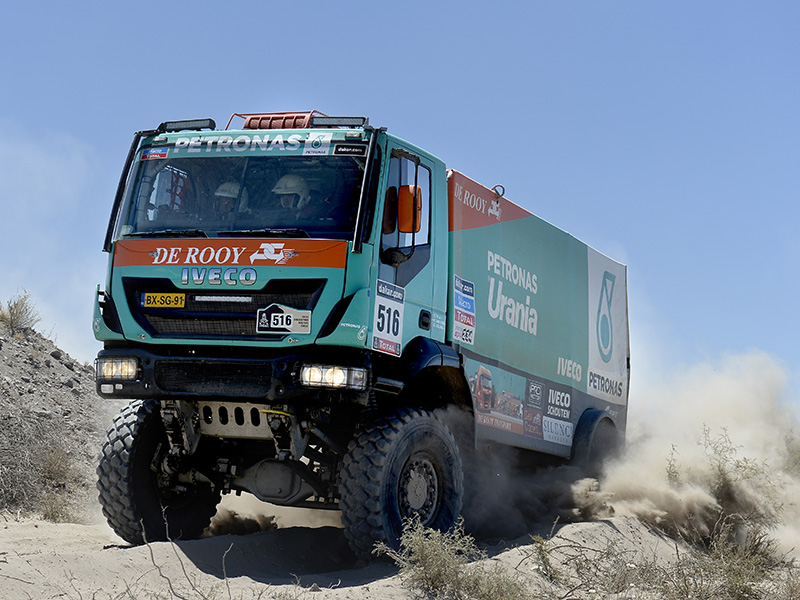 Gerard De Rooy has immediately demonstrated his commitment to ensuring that Iveco wins its second Dakar, after the success of 2012. In fact, following a tough, fast but also treacherous first stage, De Rooy has come back strongly winning the second stage and putting himself at the top of the leaderboard.

The 2014 Dakar started out on Saturday, 5th January, with a stage between Rosario and San Luis along 180 timed kilometres. Gerard De Rooy finished the first stage in fourth position, only 1m 33s away from Ayrat Mardeev's Kamaz. It was a tough stage despite having been short; in fact, the roads were very narrow and slippery for the 300 vehicles that had to cross over. Despite these complications, the Iveco Powerstar enabled De Rooy to remain on the heels of the race leader.

In the second stage Iveco's drivers De Rooy and Stacey have shown their determination to fight forvictory, resulting in a win in the Special for De Rooy and a fourth place for Stacey. A tricky special of400km on the route from San Luis to San Rafael with many slopes, dunes and almost no overtakingopportunities proved to be difficult.

It was a great victory for the Iveco team, which gained the top position in the ranking. Hans Staceydrove a superb race too and crossed the finish line in fourth position, placing him fourth in the overallranking. A splendid performance for Team Petronas De Rooy Iveco.


Contact
Client Relations

TheNewsMarket

clientrelations@thenewsmarket.com