08-MAR-2016

SOURCE: CNH Industrial
J Mousley & Sons add CASE Construction Equipment Excavators to its Fleet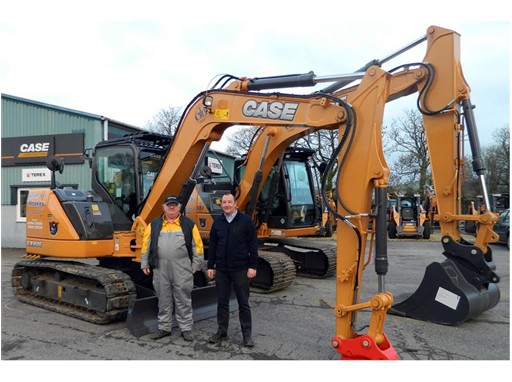 With demand for construction equipment continuing to grow throughout Wales, groundwork contractor J Mousley & Sons has expanded its fleet with the addition of two new CASE Construction Equipment crawler excavators, a CX80C and a CX130D from the new D Series range.
Based in St Clears, South Wales, J Mousley & Sons work in the construction, recycling, demolition, and agricultural sectors, with particular expertise in sports field drainage.
Established 40 years ago the company has been operating CASE machines for over 30 years. Besides these two new machines the company also operates several other CASE products which include: a CX16B mini; a CX35B mini; an 1840 skid steer; a CX135SR; a CX130B; a CX210; a CX250C; and an 821C wheeled loader.
The two new machines, were supplied by the local CASE Construction Equipment dealer Riverlea Limited, who are located in Whitland, Carmarthenshire and cover South West Wales.
Company owner Julian Mousley is extremely impressed with the dealer support and service he receives from Riverlea Ltd. "We have a very long standing relationship with Riverlea, and they always respond at a moment's notice if required," says Mr Mousley. "Operator comfort and smooth control also played a part in our desion to purchase these two new machines. These qualities are very important when our operators are working long hours."
Contact
Client Relations

TheNewsMarket

clientrelations@thenewsmarket.com