12-JUN-2015

SOURCE: CNH Industrial
New Holland Dual Stream header wins IMMA Gold Award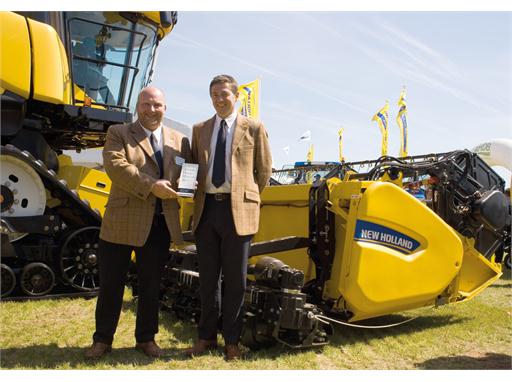 · Gold award for harvesting machinery goes to New Holland Dual Stream Header
· UK demonstration tour planned for New Holland Dual Stream Header for harvest 2015
New Holland's innovative Dual Stream header, which offers increased harvesting capacity and reduced fuel consumption, took Gold in the harvest machinery section of the prestigious International Machinery Manufacturer's Awards (IMMAs) at Cereals 2015.
Launched in 2014, the IMMAs recognise the best new farm equipment on the market and aim to reward companies who have produced machines that show innovation, effectiveness and value.
The Dual Stream system uses a second bank of self-sharpening knives to reduce the quantity of straw going through the combine resulting in easier threshing, reduced fuel use and increased throughput from a given header width.
The standard header cuts the upper section of the crop while the second bank of knives operate at normal stubble height, leaving a middle-section of 'double stubble' straw. This middle section is spread uniformly across the entire header width rather than entering the combine.
"Reduced material going in to the machine will reduce wear and tear," says Nigel Honeyman, New Holland's Combine Product Specialist. "In addition, straw chopper power consumption will be reduced, while speed of harvesting can be increased."
Contact
Client Relations

TheNewsMarket

clientrelations@thenewsmarket.com