03-OCT-2013

SOURCE: CNH Industrial
New Holland Launches a New Online Community Open to All Farmers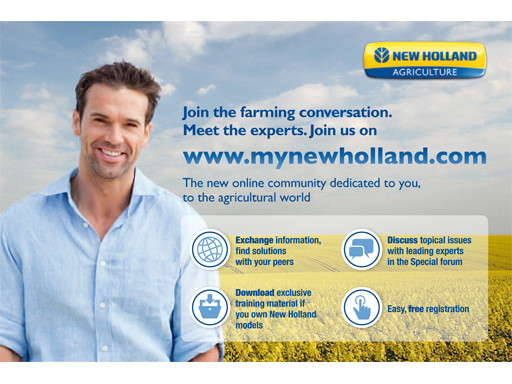 New Holland launches its online community dedicated to the agricultural world, My New Holland. Open to all farmers and everyone with an interest in farming, My New Holland offers all the functionalities of a virtual community, providing a meeting place to share information, experiences and opinions on topics related to farming and machinery.

Particularly interesting is the 'Special' feature: guest experts holding discussions on a variety of topics, relevant to the farming industry. All My New Holland members will be invited to contribute with their comments, opinions, material or images, driving the conversation forward with the guest expert.

Owners of New Holland equipment can also gain access to extra premium content that will help them get the best from their machines, by registering their profiles and machines and downloading operator manuals and useful material from the training courses.

Visit My New Holland here: www.mynewholland.com.
Contact
Client Relations

TheNewsMarket

clientrelations@thenewsmarket.com