31-JAN-2015

SOURCE: CNH Industrial
T6 Drives Off for Quick Round of Seed Drilling at Pennard Golf Course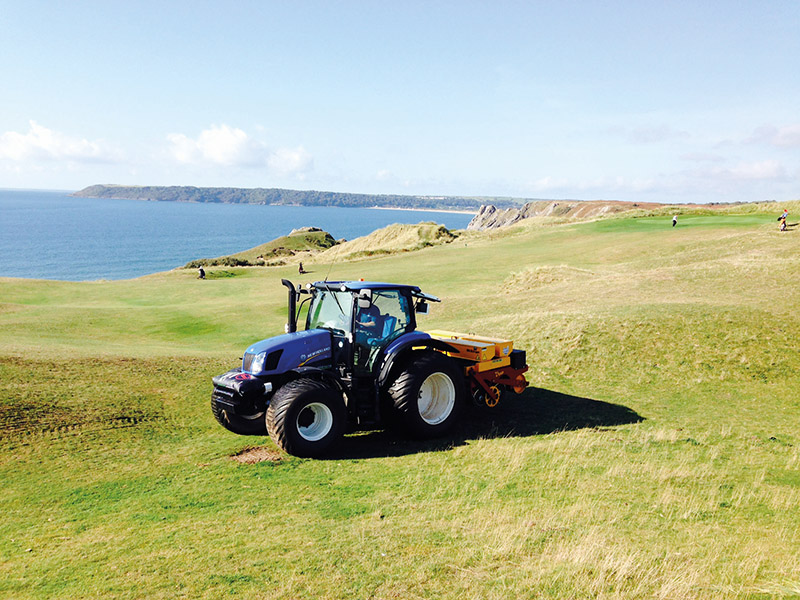 Perched 200 feet up on the cliffs of the south Wales coast, overlooking some of the UK's most beautiful shoreline, Pennard Golf Club describes itself perfectly as the "links in the sky".

The sport has been enjoyed at Pennard, on the Gower peninsula, since 1896. Over the years it has become such a gem that American golf writer James W. Finegan was moved to describe its surface as worth crossing an ocean to play on.

It's a big responsibility for Head Greenkeeper Dean Thomas, for whom finding the right machinery is a key ingredient to keeping the grass in perfect condition for its members – and the occasional American from across the Atlantic.

One of the most important tasks at the end of the summer season is replenishing the fairways' grass with a seed drill in October; a job for which speed is the essence to minimise disruption to players but without risking damage to the carefully manicured surface.

The solution came from J.G. Plant, a New Holland dealership based in Bridgend, Glamorgan, which provided Dean with a T6.140 tractor – the perfect utility workhorse balancing power with sure-footedness.

Fitted with extra wide Trelleborg tyres for minimal ground pressure, the T6.140 had the power to pull the heavy seeder and drill the fairways with 80 bags of seed – all in just one pass. The task was done in a week.