10-JUN-2016

SOURCE: CNH Industrial
With immediate effect, STEYR is providing its customers with an even better service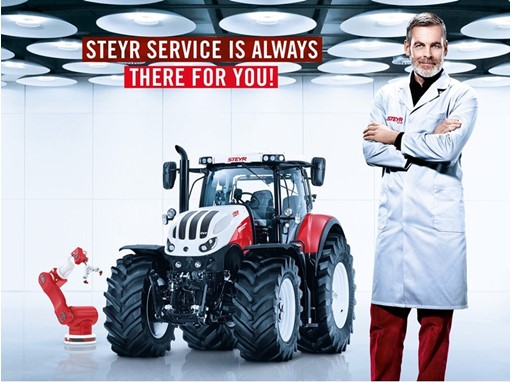 St. Valentin, 10 June 2016
"The STEYR brand stands for absolute reliability. We work ceaselessly on the further development of our tractors to do justice to the constantly rising expectations of our customers. At the same time, we of course wish to provide our customers with the best possible standard of service. Which is why we are investing so heavily in our After-Sales division" stated John Mollaghan, Service Support Director EMEA for STEYR.
The STEYR service team also ensures that roadside and on-site repairs can be conducted whenever possible by the STEYR Service Van, and that spare parts can be supplied within 24 hours. STEYR Service also collaborates with CNH Industrial Capital to provide individual financing solutions. Then there is STEYR PROTECT, to provide three comprehensive support packages for peace of mind now and into the future: STEYR PROTECT Gold includes a maintenance contract, an extended warranty and a telematics package. STEYR PROTECT Silver comprises a maintenance contract and extended warranty, while STEYR PROTECT Bronze simply provides a maintenance contract.
To provide this new service offering with a face and an independent character, STEYR Service has been created. In the form of a source of smart technological expertise, STEYR Service presents itself directly to STEYR customers as a dependable partner. This enables product benefits and services to be communicated across several media channels in an appealing and credible manner.
"We are proud of the fact that our brand claim "Your partner to rely on" can now be experienced directly in our service division", stated Marie Mouton, EMEA Brand Communications Manager at STEYR .
Contact
Client Relations

TheNewsMarket

clientrelations@thenewsmarket.com