23-JAN-2017

SOURCE: DMA Media Limited
Digital and live news channels for brands, as DMA buys TheNewsMarket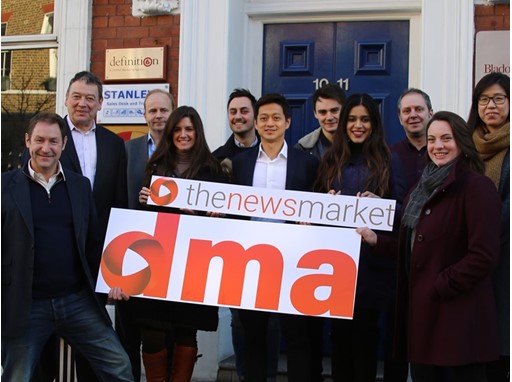 Big expansion for DMA Media as it acquires US-owned agency TheNewsMarket
Europe's largest independent news services company DMA Media has bought the international digital agency TheNewsMarket from its US parent Definition 6.
TheNewsMarket creates and manages online newsrooms and bespoke content for leading international brands including adidas, IBM, Volkswagen, Lego, IKEA, Google and PwC. It also distributes material via a unique platform to a network of 36,000 media outlets in 190 countries.
The acquisition comes months after DMA acquired a video production company, The Peloton, and took a stake in data specialists Urbs Media.
"The acquisition of TheNewsMarket means we have the expertise and scale to offer brands a complete service to access the world market with authentic, credible content. We are now able to develop stories from research to content production across digital, video, animations and VR and then to amplify those stories with distribution on TheNewsMarket or by helping brands create their own channels and websites/"
DMA's Chairman Richard Sambrook added: "No one else has this range of skills driven by a team with roots in professional newsgathering and quality production. We will be maximising the opportunity to give clients an even louder share of voice on world markets."
TheNewsMarket was founded in 2000 and has won many industry awards. Its bespoke technology has allowed it to make high quality video available on all digital channels, and it attracts a blue chip global client base.
DMA intends to use the platform www.thenewsmarket.com to showcase data-based stories for major brands, and will bring its unrivalled news experience and contacts to further extend the reach and profile of TheNewsMarket.
TheNewsMarket's MD Matthew Thomson said:
"DMA has been a key partner in helping us produce live events and content for our clients around the world. This acquisition presents a fantastic opportunity for both our companies to expand our client base and deepen our offering.'
TheNewsMarket will continue to provide development and production services to its current parent Definition 6, which offers enterprise digital and social media solutions to clients.
Definition 6 CEO Jeff Katz said: "Our continuing partnership with TheNewsMarket will underpin our content services to our international clients, while allowing us access to a range of new opportunities through DMA's contacts in the global news industry."
TheNewsMarket will become a brand within the DMA Group, supported by in-house division DMA Productions and by data-driven content from Urbs Media. It will continue its activities in its offices in London, New York, Atlanta, San Francisco, Munich, Madrid, Beijing, Ahmedabad and Mumbai.
Notes to editors
DMA MEDIA
DMA Media is a media services company with extensive global operations. It specialises in broadcast and online channel start-ups and content, and has launched dozens of channels in Asia, the Middle East, and Europe. Its principals are former senior executives from broadcasting organisations including the BBC, Reuters, Dow Jones, Bloomberg, Sky TV, Star TV, CNN and CNBC. DMA is registered in the UK as a limited company owned by its directors, and it has a branch office in the UAE. It has been trading for 20 years. Learn more
http://www.dma-media.com
.
DEFINITION 6
Definition 6 is a unique force of cross-disciplined talents pioneering new forms of strategy and storytelling in the form of digital, experiential, social, entertainment and technology solutions. Whether it's on-air promos, branded content, email marketing automation or omni-channel planning, D6 drives results for brands across all verticals and within all channels, including web, social, and broadcast. In the company's 20-year history, Definition 6 has created over $15 billion in revenue for its customers, including The Coca-Cola Company, HBO, Facebook, Siemens, Barnes & Noble College and Nickelodeon. To learn more about its award-winning work, visit
definition6.com
.