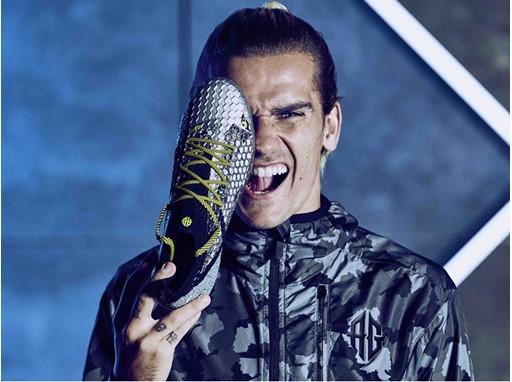 Antoine Griezmann x PUMA Football release a special GRIZI edition of FUTURE 18.1.
Shunned by major clubs for being too small as a young boy, Antoine Griezmann has achieved against all odds.
From Macon to the world, Antoine Griezmann has written his own FUTURE.
This special Grizi Edition of the FUTURE was designed with Antoine Griezmann's personal insight, a player that perfectly embodies the player of the FUTURE, quick thinking, instinctual and individual.
Last year Antoine Griezmann met with PUMA designers at his home. With full conceptual control over graphics and color, he went to work to create his own disruptive, eye catching design.
The first aspect vital to the design was the custom camo that appears on the upper and outsole of the boot. The camo was created from the silhouettes of his home the city of Màcon, the department of Saône-et-Loire, the region of Bourgogne-Franche-Comté and of course France.
Secondly featuring across the heel area are the nicknames he has garnered on his journey to the top, Grizou, Tonie, Toinou, Le Petit Diable, El Pricipito and Antoine's favorite and most famous, Grizi.
It was important to the player that the boot also represented his 'hunter' instinct on pitch, the player requested the wild cat's eyes so when he looked down upon them it would inspire that inner instinct. Disruptive and reflective claw mark graphics have also been applied to the Formstripe and CAT, visible as the cameras flash on those unpredictable feet.
Finally, Grizi launches his new logo on the boot, fierce and aggressive in its design, again reverting back to his hunter nature on the pitch, look out for the hidden no.7 within.
In addition to this limited Grizi edition Future, he also put his stamp on the design of a range of football inspired streetwear, adorned with his custom camo, that includes a track-top, training pant and football jersey.
Antoine Griezmann will wear the GRIZI FUTURE 18.1 special edition during his next game.
YouTube "Grizi" film
LINK
​​
###
PUMA is one of the world's leading Sports Brands, designing, developing, selling and marketing footwear, apparel and accessories. For over 65 years, PUMA has established a history of making fast product designs for the fastest athletes on the planet. PUMA offers performance and sport-inspired lifestyle products in categories such as Football, Running and Training, Golf, and Motorsports. It engages in exciting collaborations with renowned design brands to bring innovative and fast designs to the sports world. The PUMA Group owns the brands PUMA, Cobra Golf and Dobotex. The company distributes its products in more than 120 countries, employs more than 11,000 people worldwide, and is headquartered in Herzogenaurach/Germany. For more information, please visit
http://www.puma.com
.
Contact
Client Relations

TheNewsMarket

clientrelations@thenewsmarket.com
More From Latest News
SUBSCRIBE TO RSS FEED
XML