29-JUL-2015

SOURCE: Kia Motors America
Defending Multiple Manufacturer Championships, Kia Returns To Mid-Ohio Sports Car Course Twice In Two Weeks For Pirelli World Challenge Action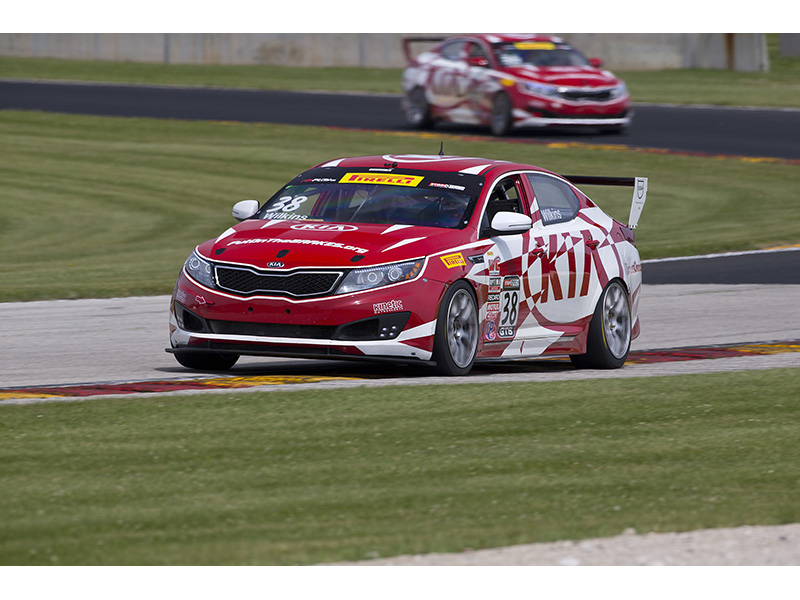 As defending Pirelli World Challenge (PWC) Grand Touring Sport (GTS) Manufacturer Champion, Kia is building momentum heading into Mid-Ohio Sports Car Course for rounds 11-12, July 31-Aug. 1. Just over halfway through the 2015 PWC season, Kia Racing has five podium finishes following back-to-back top-three results in rounds nine and 10 at Road America, and Kia currently sits third in the GTS Manufacturer Championship ahead of Nissan, Chevrolet, and Porsche, but trailing Ford and Aston Martin. Kia Racing Optima pilots, Mark Wilkins and Ben Clucas, are sixth and seventh in the GTS driver standings, respectively. Wilkins prepares for his fourth year behind the wheel of the No. 38 B.R.A.K.E.S Optima turbo at Mid-Ohio, where he's recorded two podiums, including a win in 2013, while teammate Ben Clucas, in the No. 36 DonorsChoose.org Optima turbo, is returning for the first time since 2011, when he drove a BMW M3 for Kinetic Motorsports.

"We've had a lot of success in the past at Mid-Ohio, and with its aerodynamic shape and turbo power, the Optima performs very well on the track's fast sweepers and long straights. It's a circuit where you can find a good rhythm and really have fun, and we'll need to do just that this weekend to get up front and stay there," said Wilkins, who has finished seventh or higher in his six previous races at Mid-Ohio. "Both Ben and I finished on the podium at Road America, so hopefully, that gives us the momentum we need to get a good result at Mid-Ohio and accelerate our defense of Kia's Manufacturer Championship title during the second half of the season."

While the factory-backed GTS Optimas compete in rounds 11 and 12 at Mid-Ohio July 31- Aug. 2, the Kinetic Motorsports Kia Forte Koup privateer program hits the track for rounds 10, 11 and 12 of the Touring Car A (TCA) season just two weeks later. Defending 2014 PWC TCA Driver Champion and Rookie of the Year, Jason Wolfe, is no stranger to the Mid-Ohio Sports Car Course, having grown up in nearby Mount Vernon, Ohio. Wolfe, whose performance last season also earned Kia the TCA Manufacturer Championship, has a strong connection to the track where he regularly serves as a driving instructor.

"Mid-Ohio is definitely my favorite track. As a driving instructor here, I am very familiar with its nuances and look forward to putting on a good show for my friends and family," said Wolfe who currently leads the TCA driver points.

Rounding out Kia's 2014 championship sweep, is defending Sports Car Club America (SCCA) B-Spec National Champion Kyle Keenan in his No. 44 Kia Rio 5-door. Keenan, who recently won a doubleheader SCCA Western Conference Major, will aim to repeat as national champion at the 2015 SCCA Runoffs in October at Daytona International Speedway in Daytona Beach, Florida.

GTS round 11 of the PWC at Mid-Ohio Sports Car Course takes place Friday, July 31, at 5:40 p.m. ET. Round 12 begins Saturday, August 1, at 11:45 a.m. ET. Tape-delayed televised coverage of the GTS doubleheader weekend will air on the CBS Sports Network Wednesday, August 12, at 9:00 p.m. ET.

TCA round 10 takes place Friday, August 14, at 9:30 a.m. ET, followed by round 11 at 12:15 p.m. ET. Round 12 is scheduled for Saturday, August 15, at 9:55 a.m. ET. Live-streamed coverage of all PWC races is available online at www.world-challengetv.com, and race fans can keep up-to-date with the Kia Racing team via the Kia Motors America Facebook and Instagram pages, and on Twitter @Kia.
Contact
Client Relations

TheNewsMarket

clientrelations@thenewsmarket.com