17-SEP-2013

SOURCE: Lamborghini
Lamborghini Blancpain Super Trofeo Championship to be decided in Germany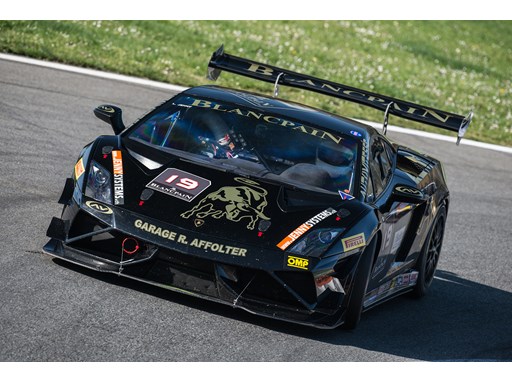 Sant'Agata Bolognese. With its neighbouring association with motor racing legend, the Nürburging is a fitting venue for a hard fought Lamborghini Blancpain Super Trofeo season to draw to a conclusion as the European season comes down to the wire.

Fast Facts
• Cédric Leimer looks to claim his third title in five seasons
• Three other cars remain in contention for the PRO-AM title
• Laurent Jenny holds a strong lead in the Amateur Championship
• Races to be broadcast live online with commentary

As in 2012, Cédric Leimer is the man to beat, the Swiss driver gunning for his third title in five seasons of racing with Lamborghini. He will arrive in the Eifel Mountains with a slender advantage of just 11 points, 8 less than the cushion he took to last season's final race in Navarra in Spain and will be only too aware that 30 points are on offer from the weekend's two final races.

Leimer is a strategic master, knowing just where to battle and pick his fights, and when to stand off and bank points for the title. But this season has been notable for the emergence of some highly capable and determined challengers, not least Imperiale's Andrea Amici, the 21 year old Roman who has built a 40% win ratio over the course of the year. And a little way behind on points, but still more than just a mathematical challenger is last season's Amateur champion, Leonardo Geraci, who has graduated with honours to the professional ranks. Geraci is matched on points by the partnership of the PRO-AM pairing of Adrian Zaugg, very often the fastest man on the track, and his team-mate, Federico De Nora. All four drivers have the capacity to challenge Leimer's hegemony.

It is not just of course the PRO-AM field looking to secure championship titles. With an almost unassailable 24 point lead, Laurent Jenny looks to have the Amateur title for the taking, offering the possibility for AutoVitesse Garage R. Affolter to take a clean sweep of all four season crowns for drivers and teams.

And while the title contenders will be focused on a solitary goal, in their midst are plenty who have a simpler ambition to win races, which is likely to be an influencing factor in the championship outcome. Mirko Zanardini, Fran Bugliotti, Richard Chlad, Alberto Viberti and many others in the 21 car field have shown the clear pace to be able to win races outright.
Contact
Client Relations

TheNewsMarket

clientrelations@thenewsmarket.com