13-FEB-2018

SOURCE: OMEGA
How OMEGA times Speed Skating events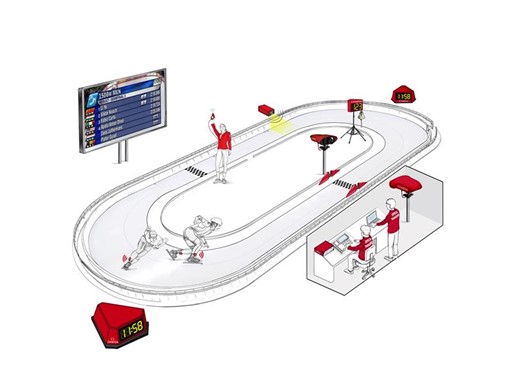 The Events
With speeds of more than 60 kilometres per hour, speed skating is the fastest human-powered, non-mechanical-aided sport in the world. There will be 14 speed skating medal events in PyeongChang.
Women will compete at distances of 500m, 1000m, 1500m, 3000m, and 5,000m as well as in a team pursuit event. Men's distances are 500m, 1000m, 1500m, 5,000m and 10,000m. They also have a team pursuit event.
There are also two new events in speed skating this year: Men's mass start and Women's mass start. As the name implies, all competitors are on the ice at one time and start simultaneously, racing over 16 laps of the 400m oval. The competition will begin with two semifinal heats. The top eight skaters from each semifinal will advance to the final.
But the results of the race aren't just based on the finish. During the race there are three intermediate sprints (after four, eight and 12 laps). At these intermediate marks, skaters are awarded points for the sprint (5 for first place, 3 for second place, 1 for third place) that count towards the final standings.
There is also one final sprint. Skaters are awarded 60 points for first, 40 points for second, and 20 points for third, ensuring that the first three finishers of the final sprint will also be ranked as the top three competitors who get the medals.
The Timekeeping
To start the race, an official fires the electronic starting gun. When the starter presses the trigger, three things happen immediately and simultaneously: a light flash is emitted, a sound is generated through speakers and a start pulse is transmitted to the timing device. If the trigger is pressed a second time within two seconds, a false start will be audibly signaled.
During the race, a lap counter located near the finish line lets skaters know how many laps remain.
In some events, transponders worn on the ankles of the competitors also transmit information to the timekeepers which provides live data as the race takes place.
A last-lap OMEGA bell is rung when the racers have one lap to go.
Finally, the finish time is always determined when the blade of the competitor's skate crosses the photocell-beam located on the surface of the ice at the finish line. This time is then projected onto scoreboards within the stadium. In case of disputes, the OMEGA Scan'O'Vision Myria photofinish camera records the action at the finish line at 10,000 digital images per second.
In speed skating, the timekeepers and their technologies face the ultimate challenge: it is timed to the nearest thousandth of a second. To put this in perspective, about a thousand of these tiny increments of time pass in the second or so it takes to say "Olympic speed skating".
Contact
Client Relations

TheNewsMarket

clientrelations@thenewsmarket.com