29-JAN-2019

SOURCE: Photography Now
World Famous Photographer Rankin Awarded Honour at Prestigious London Awards Ceremony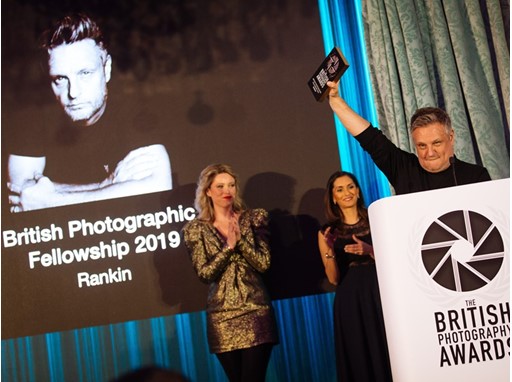 British photographer known for his iconic pictures of the world's most famous faces
Britain's 180 years heritage of image-making celebrated at inaugural event
British Photography Awards is a not-for-profit competition that benefits 16 UK charities
Rankin, one of the world's most famous photographers, has received a Fellowship Award at an awards ceremony held at London's Savoy Hotel on Monday 28th January. 
The British Photography Awards were founded in 2017 to celebrate outstanding achievements in British image-making.
After receiving his award, Rankin said: "I'm not a big award enterer, so I haven't received loads of awards, but to receive an award from the photographic community is massive to me. I love photography, I'm obsessed by it and I loved all the entrants and winner tonight."
Rankin is a world-renowned portrait and fashion photographer who co-founded the influential British magazine Dazed & Confused. He has captured some of the most famous faces in the world, including British icons The Queen, David Bowie, The Rolling Stones and model Kate Moss.
Hugo Donnithorne-Tait, Awards Director, British Photography Awards, said: "These awards are pivotal in celebrating the rich heritage of our photographic culture. They inspire new practitioners and influence established artists.
We are very fortunate in having such a distinguished Fellow to award in 2019, someone who has been a great source of inspiration to so many photographers the world over."
The British Photography Awards is a not-for-profit competition that recognises Britain's rich heritage in image-making dating back 180 years and strives to celebrate British artistic innovation on the global stage.
The competition donates money to 16 UK charities, including Shelter, Help for Heroes, The Wildlife Trusts and Médecins Sans Frontières/Doctors Without Borders (MSF).
For this year's British Photography Awards, over 3,700 British photographers submitted their work to a team of expert judges. 16 honours were awarded across a range of categories including: Best Portrait Photographer, Best Drone Photographer, Best Documentary Photographer and Best Selfie Photographer.
The celebrity photographer Richard Young was amongst the winners. He was awarded the British Photographic Associateship accolade.
The competition's People's Choice Awards attracted 74,000 votes from the British public. A People's Choice Winner was announced for each category, alongside the overall winner chosen by the judges. 
Full award winners list:
Category Winners
Best Portrait Photographer - Sarah Wilkes Simple Beauty
Best Street Photographer - Edo Zollo London After Dark
Best Macro Photographer - Lucien Harris Field of Wings
Best Drone Photographer - Konrad Paruch Reaching for Heaven
Best Domesticated Animal Photographer - Mieke Douglas Contours
Best Sports Photographer - Mike Egerton Luge
Best Documentary Photographer - Maria Tomas-Rodriguez Tradition
Best Wedding Photographer - Aaron Storry Chloe & Joe's First Dance
Best Birdlife Photographer - Adrian Clarke Flash Dance
Best Water Life Photographer - Matt Doggett Sunlit Seal
Best Land Animal Photographer - Scott Latham 98% Human
Best Landscape Photographer - Thomas Roberts A House on Skye
Best Selfie Photographer - Claire Armitage Chaotic
People's Choice Winners
Portrait Photography - People's Choice: Filip Gierlinski Embe
Street Photography - People's Choice: Craig Simmonds Regent Street
Macro Photography - People's Choice: Adam Karnacz Veil
Drone Photography - People's Choice: Jon Clark Rainbow Over Riber Castle
Domesticated Animal Photography - People's Choice: Alexandra Robbins Lavender Princesses
Sports Photography - People's Choice: Nerijus Dusevicius Emotions
Documentary Photography - People's Choice: Nitin Sachiana Breast is Best
Wedding Photography - People's Choice: Albert Palmer When the Bridesmaid Has Too Many Shots
Birdlife Photography - People's Choice: Janine Lee The Strike
Water Life Photography - People's Choice: Dan Charity Whale Shark
Land Animal Photography - People's Choice: Konrad Borkowski The Nocturnal Stag
Landscape Photography - People's Choice: Jenifer Bunnet Raspberry Ripple
Contribution Awards
British Photographic Fellowship - Rankin
British Photographic Associateship - Richard Young
International Photographer 2019 - Frans Lanting
Photographs provided by Sam Churchill.
Contact
Client Relations

TheNewsMarket

clientrelations@thenewsmarket.com